Financial Fraud: A Growing Concern For Everyone
Financial Fraud: A Growing Concern For Everyone
Cyber Crime is a kind of crime where the computer is used as a tool or target or both.
With the easy and speedy access to online shopping, banking system, social networking sites Cyber Crime is increasing at a rapid pace not only in other parts of the World but also in India. Out of all kind Cyber Crimes, the predominant ones are of online financial fraud. According to a report 62 percent of total Cyber Crimes registered by Delhi Police in 2020 are related to financial fraud.
Financial Fraud: The main motive of Cyber Crime is financial in nature. Online Financial Fraud is a type of Cyber Crime where criminals involved in profit-driven criminal activity such as acquiring details of financial accounts, credit/debit card information and transfer money from payment banks etc. In short online financial fraud is a type of Cyber Crime where there is a financial loss on the part of victims.
What to do to prevent online Financial Fraud:
Be alert and careful while shopping online. You must ensure that the site through which you are transacting has https://. The S means the site is secure and your financial information will be sent to server using encryption.
Be alert and careful while signing into your online banking account. Avoid public Wi-Fi while signing into banking account and making any kind of transaction.
You must make payments and transfers through official sites only and be alert and careful of who you're sending money to and why.
We received thousands of emails in our account having various instructions and links. Be alert and careful and do not click on any suspicious links. Always verify the sender's identity and if in doubt, ask for a second opinion
Crime related to Payment Banks such as PayTM, PhonePe, GooglePay have increased tremendously nowadays. Be alert and careful while clicking any links. It may be a "Money Sent Request".
Always be critical to offers having financial gains.
Data security is a vital concern now. Be alert and careful while filling online forms with vital information related to you. These Data can be used to impersonate.
Be alert and careful while purchasing using sites like 99acres.com, quickr.com etc. It is advisable not to transfer money without physical verification of the other party and materials you are intended to buy.
Your passbook has vital information such as CIF no. Mobile no. your address etc. So be alert and careful while updating the passbook in kiosk. Fraudster can steal this vital information and can used to illegally transfer money from your account.
Check your mobile no. where OTPs of your account comes. If you find that the network of your mobile is down then you must intimate it to Mobile Service Providers. Sometimes fraudsters gain your account information including mobile no. and to have OTPs they apply for reissue of SIM.
Last but not the least, always checks your ATM for any cloning device before inserting the CARD. Moreover do not share your PIN number to anyone nor do you write it on anything including CARD.
Duties of Mobile Service Providers:
It has been seen that criminals used fake documents and apply for reissue of SIM in the name of original owner. Once MSP provide this SIM, criminals have access to OTPs. By the time the legitimate owner knows about it a huge chunk of money gets transferred.
Therefore it is important for MSPs to verify their documents carefully before issuing SIM. They must check their previously submitted documents and if possible they must call into their alternate no.
Duties of Banks:
The Banks are coming up with new facilities every day. But in the name of facilities, banks should not compromise the basic security of every individuals account. The bank officials should periodically interact with law enforcement agencies and understand the current pattern of crimes and their loopholes.
Every bank has CSPs in rural areas. These CSPs are becoming hub of cyber criminals. The bank must check their activities at regular intervals. The accounts opened by CSPs mostly used to transfer money where the original account holders do not know that they have an account in their names.
Awareness is vital to prevent financial fraud. Bank must aware their customers at regular intervals.
Duties of Law Enforcement Agencies:
Duties of Law Enforcement Agencies are eminent to prevent and detect any kind of Cyber Crime. To detect Cyber Crime such as financial fraud requires speedy action by Law Enforcement Agent and for speedy action every LE agent requires proper knowledge about Cyber Space, Financial Systems and Core Banking System etc. In case of Financial Crime, every second has a huge value, so LE agent cannot handle it the way he does to traditional crime.
Therefore it is the duties of the State and the higher authorities of LEA to prepare their LEA with proper training and hardware to tackle Cyber Crimes and any other modern crimes.
Duties of Common People:
We, the common people have a crucial role to play to prevent Cyber Crimes in our localities. This is the duty of every citizen who has knowledge about such types of crimes and who has witnessed such crimes in past should create awareness in his localities. Together we can prevent this menace.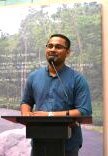 Sankar Jyoti Nath is a Research Scholar of Assam Don Bosco University, Guwahati. He has worked as a Network Administrator for various organization.