The purpose of yoga is to get rid of miseries even before it arises. So the entire practice is to strengthen us in the body and the mind and to make us strong to face any situations. And when we are talking of situation the present Covid 19 is enough to make us miserable by going through fear , anxeity and stress.
All of a sudden I think the most important word now, is Breath and so in this context let us know a little more about breathing by practicing Pranayama and how it is going to help us.
Gurudev Sri Sri Ravishankar says that a strong mind can carry a weak body but a weak mind cannot carry a strong body.
Stability of Mind and Pranayama
"There is little use in having a machine that you cannot operate without a manual," says Sri Sri, "Spiritual knowledge is like a manual for life. Just as we have to learn how to operate the steering wheel, clutch, brake, and so on to drive a car, similarly, to move towards stability of the mind, we must know the basic principles about our life force energy. This is the whole science of pranayama.
We all aspire for a calm, peaceful, and steady mind. We have seen yogis and monks—and perhaps even friends and family—exhibit that state of total bliss. How can we take our mind to a state that is unperturbed by the chaos that surrounds us in the form of stress, anxiety, work pressure, emotional conflicts, and inner dilemmas? Can we do it by simply telling ourselves to become calm? For example, let us assume a situation at work so arises that makes you so angry and makes you want to react immediately and then you tell your own mind to calm down. Does that work? Or, another example, if you are instructed to NOT think about a pink giraffe for 10 seconds, can you really do that?
Hint—you are likely to specifically think about a pink giraffe. And here's why.
Managing the Mind From the Level of the Mind is Impossible
Art of Living founder Gurudev Sri Sri Ravi Shankar makes an insightful observation, "One cannot handle the mind from the level of the mind. It is for this reason that although counseling or psychiatry seem to help in the beginning, it is not able to provide a complete cure in the longer term. Forcing positive thoughts on oneself is not enough," Gurudev says. This applies to any aspect of our lives—be it material or spiritual goals.
Pranayama and Emotions
Our mind and emotions are closely linked to the prana or life force. When our prana or life force fluctuates, our mind also goes up and down through an emotional roller coaster. When your prana is low, you are likely to feel negative emotions like sadness, anger, heaviness, feeling of low, regret and overall negativity. When your prana is high, you are bound to experience positive emotions like joy, enthusiasm, happiness and a rush of high that comes from a source within.
Prana is the universal life force and 'Ayama' signifies regulation or extending or dimension. They are one of the most effective ways to prepare your body and mind for a deeper meditation.
Breath, Mind, and Pranayama
What helps us increase our prana is pranayama—the secret lies in our breath! Our breath connects the body and mind. Our emotions are closely linked to the way we breathe. When you are sad, you are likely to experience longer outbreaths versus when you are happy. Similarly, when you are at a place of worship, your breath becomes steady. Pranayama is the art of reversing this loop in our favor, to develop a say over our emotions and mind. When we start paying attention to our breath, when we regulate this breath, we come closer to a newer dimension within us which is peace and joy.
"With the help of these breathing techniques, as prana rises in the body, one starts to feel a transformation as direct experience and not as a forced mental exercise. One starts becoming happier, creative and more in command of their mind and emotions," says Sri Sri.
Nadi Shodhan Pranayama
What is Nadi Shodhana?
Nadi = subtle energy channel; Shodhan = cleaning, purification; Pranayama = breathing technique.
Nadis are subtle energy channels in the human body that can get blocked due to various reasons. The Nadi Shodhan pranayama is a breathing technique that helps clear these blocked energy channels, thus calming the mind. This technique is also known as Anulom Vilom pranayama.
Cause of Obstruction in the Nadis:
Nadis can get blocked on account of stress
Toxicity in the physical body also leads to blockage of nadis
Nadis can get blocked due to physical and mental trauma
Unhealthy lifestyle
What Happens When these Nadis are Blocked?
Ida, Pingala and Sushumna are three of the most important nadis in the human body.
When the Ida nadi is not functioning smoothly or is blocked, one experiences cold, depression, low mental energy and sluggish digestion, blocked left nostril. Whereas when the Pingala nadi is not smoothly functioning or is blocked, one will experience heat, quick temper and irritation, itching body, dry skin and throat, excessive appetite, excessive physical or sexual energy, and blocked right nostril.
3 Reason: Why You Should Practice Nadi Shodhan Pranayama
Nadi Shodhan pranayama helps relax the mind and prepares it to enter a meditative state.
Practicing it for just a few minutes every day helps keep the mind calm, happy and peaceful.
It helps in releasing accumulated tension and fatigue.
How to Do Nadi Shodhan pranayama? (Alternate Nostril Breathing Technique)
Sit comfortably with your spine erect and shoulders relaxed. Keep a gentle smile on your face.
Place your left hand on the left knee, and palms open to the sky or in Chin Mudra (thumb and index finger gently touching at the tips).
Place the tip of the index finger and middle finger of the right hand in between the eyebrows, the ring finger and little finger on the left nostril, and the thumb on the right nostril. We will use the ring finger and little finger to open or close the left nostril and thumb for the right nostril.
Press your thumb down on the right nostril and breathe out gently through the left nostril.
Now breathe in from the left nostril and then press the left nostril gently with the ring finger and little finger. Removing the right thumb from the right nostril, breathe out from the right.
Breathe in from the right nostril and exhale from the left. You have now completed one round of Nadi Shodhan pranayama. Continue inhaling and exhaling from alternate nostrils.
Complete 9 such rounds by alternately breathing through both the nostrils. After every exhalation, remember to breathe in from the same nostril from which you exhaled. Keep your eyes closed throughout and continue taking long, deep, smooth breaths without any force or effort.
Cautions to be Taken While Practicing Nadi Shodhan Pranayama (Alternate Nostril Breathing Technique)
Do not force the breathing, and keep the flow gentle and natural. Do not breathe from the mouth or make any sound while breathing.
Do not use the Ujjayi breath.
Place the fingers very lightly on the forehead and nose. There is no need to apply any pressure.
In case you feel dull and are yawning after practicing Nadi Shodhan pranayama, check the time you take to inhale and exhale. Your exhalation should be longer than inhalation.
Tips While Doing Nadi Shodhan Pranayama
It is a good idea to do a short meditation after doing Nadi Shodhan pranayama.
This breathing technique can also be practiced as part of the Padma Sadhana sequence.
7 Benefits of Nadi Shodhan Pranayama (Alternate Nostril Breathing Technique)
Excellent breathing technique to calm and center the mind.
Our mind has a tendency to keep regretting or glorifying the past and getting anxious about the future. Nadi Shodhan pranayama helps to bring the mind back to the present moment.
Works therapeutically for most circulatory and respiratory problems.
Releases accumulated stress in the mind and body effectively and helps to relax.
Helps harmonize the left and right hemispheres of the brain, which correlates to the logical and emotional sides of our personality.
Helps purify and balance the nadis – the subtle energy channels, thereby ensuring a smooth flow of prana (life force) through the body.
Maintains body temperature.
So practicing Pranayama gor a little while everyday is very beneficial for the system to function right.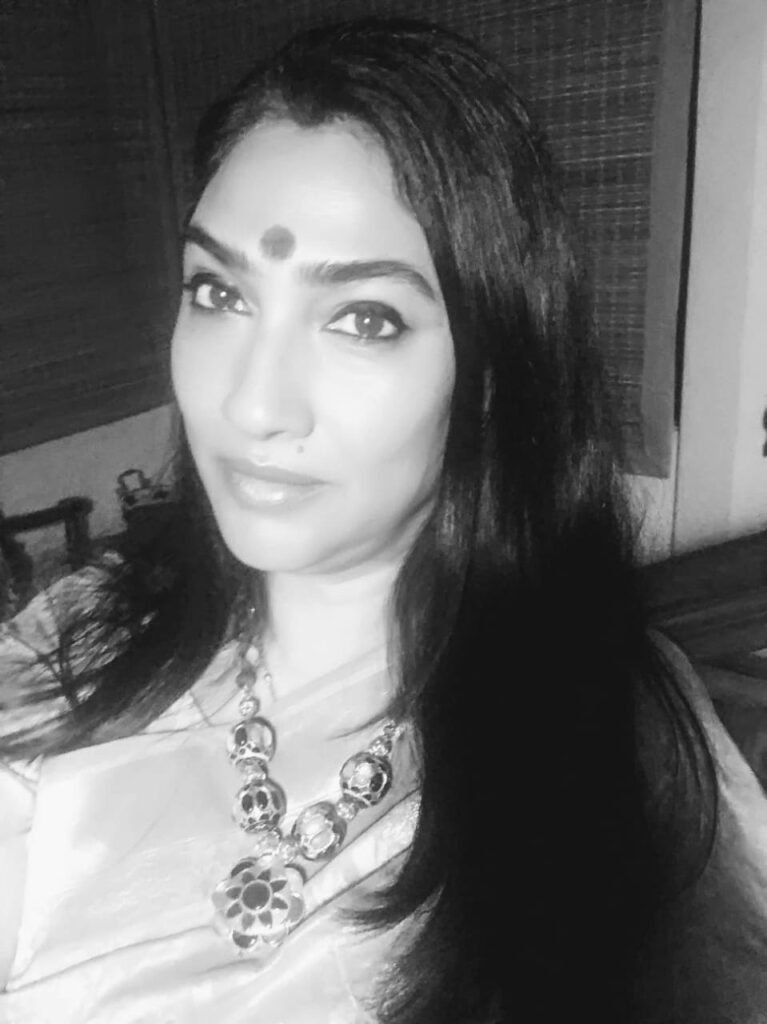 Pinki Hazarika
Art of living Faculty
Regional Director GEP
Has been with the organisation since 20years, a meditator, a yoga enthusiast and an ardent devotee of Gurudev Sri Sri Ravishankar ji