Muri Ghanta Naga Style (Fish head naga style)People from East and North East India relish eating fish and eat nearly all parts of the fish. The Intestines ,Fat and the Head are cooked and eaten with relish. I have even heard that scales of large fish are fried and eaten like chips(never tasted but have heard that it tastes like prawn wafers). Fish head is a delicacy and is called Muri Ghanta and is prepared in various ways with dal, cooked rice, or veggies , however lately this recipe has become a favourite of mine and is very easy to cook.The best part is that this is a no oil recipe and for the uninitiated the end result is like a Bharta or chutney so there are not many bones to watch out for.
Ingredients
1.One large fish head cut into four pieces.(remove the gills , the fishmonger will do this for you).The larger head the better cause it contains more grey matter.Have only used fresh water fish for this never used sea fish.
Turmeric & salt

Crushed Ginger and Garlic. (Not paste.). Ratio of Garlic:Ginger(2:1)

Green Chilly cut into small pieces. Amount will depend on how hot you want it to be.
5.Fresh Coriander
Bamboo Shoot (preferably the fermented variety)

Tomatoes cut into small pieces.
Process:
In a kharadhai(thick bottom pot) put the fish head pieces and add enough water to cover the pieces. Add Salt and turmeric and bring to boil. Turmeric will remove the raw smell of the fish.

Once the water starts boiling add the tomatoes and once the tomato starts to become soft add the chilli , crushed ginger/ garlic.

Once the water reduces, mix well with a spatula(karchi)remove the bones(at least try to), The skull by this time will become soft and break into pieces , the bones can be removed. This will look like a bharta now
. 4. Add the bambooshoot and stir for about two minutes on a low flame , add chopped coriander leaves and stir for one more minute before putting out the flame.Your dish is now ready. Enjoy with plain rice.
Note : a) Have tried it without bamboo shoot , it still tastes good.
b) Some people mix raw mustard oil about a teaspoonful at the end to give it a mustard taste (try that). I however prefer it without oil.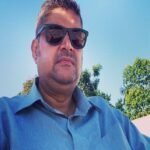 K N Rao (Sonny) is consultant by profession, with a background of Statistics and Human Resources. Born and brought up in Tezpur in a family of academicians, he has worked in Delhi for a considerable number of years and currently runs his own setup based out of Guwahati. His passions include listening to  a wide range of music, watching movies, reading mostly fiction, meeting people from all walks of life and cooking. Being a foodie himself, he honestly believes that to understand a culture one must eat the food associated with the culture.