The diamond that never dazzled
The diamond that never dazzled
Tina and Tonmoy became friends in college because of their common love for poetry. When they first met, Tonmoy had already acquired some fame as a young poet. Tina shared the same passion, though she was not much into writing . She was more into singing. In fact, they first met in the freshers- social in college where she sang a semi-classical song right after Tonmoy had recited his own poem. This was her first major stage performance and that she performed in front of her close friends heightened the excitement. 'You write so beautifully ', she told Tonmoy after the show. He just nodded his head, a wry smile playing on his lips. That was just a short encounter and she never thought that they would become such close friends later. She was accustomed to moving around with friends who are vibrant and bubbly. Like her, her friends came from well-to-do families. So, they made quite a swashbuckling gang. That night after the show was over, she went back to her applauding group of friends and they celebrated her good performance, giggling at every small little comment. Tonmoy was quiet by nature and seemed inward-looking and intense as most poets are. Also, he came from a poor family. In the premier college, he had that initial awkwardness, coming from a small town on the back of a brilliant academic record. Naturally by then, he had made only a few acquaintances. So it was not unusual that he quietly left on his own after the event.
Next few days passed by quickly with Tina remaining busy attending classes and  also with Facebook ,downloading and commenting on the freshers- social photographs. It was only after sometime when she read in the morning newspaper that Tonmoy bagged a prestigious award given for original poetry,that she remembered about him. 'Quite deserving', she thought .'I will meet him today', she made a mental note.
She found him sitting in the college canteen chatting with his new friend, Rohit. She walked up to him and said ' hi' to which both said 'hello' routinely, eyebrows raised in curiosity. 'Celebration, is it?', she asked while pulling a vacant chair to sit down. Rohit went to the counter and brought three cups of tea. 'This is our idea of celebration', Rohit said to which Tonmoy just offered a smile, nonchalantly. 'Rohit thinks he is an intellectual, wants to do honours in Economics and ultimately pursue further studies abroad', Tonmoy said by way of introducing Rohit.  'What are you pursuing, Tonmoy?', she asked with more than a casual interest. 'Oh, I am doing Science with Biology, hoping to make it to a Government Medical College, as private colleges are very expensive', Tonmoy said, not without a bit of rancour. 'I am sure you will make it. When there is a will, there is a way', she said and laughed. All three of them seemed to have enjoyed the small talk. After sometime she got up as she saw Sarah and her other friends walking into the canteen, giggling as usual. As she was leaving, on an impulse she asked Tonmoy 'can we meet more often? '. Tonmoy said 'yes' simply, bemused.

After that, Tina and Tonmoy started meeting often enough for her gregarious friends specially Sarah to call them a couple. Poetry was initially the topic of conversation, though later they started talking about all sorts of subjects, particularly when Rohit was present. Rohit always brought on an intellectual flavour to all discussions. Through all these, a close camaraderie developed among them. Sometimes the discussions among them veered into the subject of marriage. Rohit always used to drop loud hints about the two of them, but there were no takers as Tonmoy realised, given his economic and social status, any thoughts about life with Tina was just a pipe-dream. Tina still remembered one such occasion when the situation became quite serious. As usual, Rohit playfully suggested that Tina and Rohit should start thinking of life together in future. Tina jokingly remarked that she would only get married to a handsome prince who would propose to her on one knee ready to slip in a diamond ring on her finger. Tonmoy quickly reparteed, ' yes, I will get the money for the diamond ring by turning a kidney-donor. That way I will save a  patient and also get you as wife as a bonus'. 'Selling your kidney? What nonsense! How can you say that?',Tina retorted angrily. Rohit quickly veered the discussion to other matters, less intimate. Tina felt uncomfortable and bit her tongue regretting the reference to the diamond ring.
As time passed by, their friendship grew. After completing pre-university, Tina took admission in Cotton College with honours in English. Rohit as expected did exceedingly well and went to Delhi for doing Economics (Hons) and he seemed in line for achieving his ambition. Tonmoy did not get admission in Medical College and settled for Biology honours in BSc in Cotton College itself. Tina felt curiously happy that they would be together for three more years. But she quickly brushed the thought away feeling very selfish. They met  for a farewell lunch day before Rohit was to depart for Delhi for studies. They let their hair down laughing away the sweet memories but as the day wore on, the discussion became a tad serious. As Tina was getting up to leave, Rohit  took Tina aside to whisper in her ears that Tonmoy had been deeply in love with her though he would never admit it. Before she could recover from the suddenness of the remark, Rohit and Tonmoy left.

After Rohit left for Delhi, Tonmoy became even more serious and quiet. He actively started seeking out Tina in college to spend time together which he seemed to enjoy immensely though it was not easy as both belonged to different streams and getting common off -period was not so easy. He also enjoyed going to poetry-reading sessions and Tina invariably accompanied him. With more and more poetry being thrown in into the relationship, the bond between them deepened. But marriage was never a subject of discussion, not even hinted at as the matter about diamond ring and kidney selling still left a bitter taste on their mouths. Time passed quite rapidly. Before they realised, it was exam time and their meetings became more and more infrequent. The exams came and gone. Both graduated with honours. Tina went to Delhi for doing her Masters in English in Delhi University and Tonmoy dropped out to doing a diploma course in Guwahati , training to be a radiologist.

During the next two years, Tina had very few occasions to meet Tonmoy who was also quite busy doing his course while continuing to follow his passion on poetry. Quite expectedly, a lot of accolades came his way though he would have enjoyed it more had Tina been around to cheer him. Tina, of course, met up with Rohit every now and then , both being in Delhi. In one of their meetings, Rohit said with his voice tinged in sadness that Tonmoy realised that their relationship was not heading anywhere and that he would consciously like to get out of the way. Tina did not know what to make of it but she felt a sharp pain. The distance between the two, being located in two different cities, made it somewhat bearable. She also realised that slowly they were drifting apart.

Meanwhile Tina's parents were looking for a match for her and they zeroed in on Tina's childhood friend, Avinash , working in Detroit after doing his Masters from Cornell University. Tina and Avinash met in Delhi at the bidding of both the families and the childhood memories of having fun together came flooding back. Avinash teased her reminding how baby-Tina cried uncontrollably when he had to move out of the neighbourhood to a new town as his father got transferred. Avinash had grown into a fine young man who wore his light beard well. It was a pleasant meeting. Avinash went back to US immediately after as he had no leave left.

Tina's parents kept pressing her about her decision. After a lot of thought ,Tina finally said 'yes'. Next few months went in hectic activities of marriage preparations. On the day before the wedding, Rohit came to meet her. He carried a present. 'It better be a good gift', she teased him jokingly. 'Oh, it's not from me, it's a wedding gift from Tonmoy. He called me to the hospital and requested me to take it to you with his best wishes'. She opened the gift with trembling fingers to find a diamond ring glittering in the light. It was like a brick hitting the back of her head. Tears streamed past her agitated cheeks. 'He sold his kidney, he sold his kidney!', she started screaming. By now, Rohit had gone pale completely as realisation dawned upon him. He remembered he was surprised when he got a call from Tonmoy that day as Tonmoy had gone completely incommunicado. ' I understand, you are going to attend Tina's marriage. Can you take a small present from me to her? ' Sure he did , but never for a moment, did he realise that he was carrying a present of sacrifice. He could not stand facing Tina anymore and in a daze, he left whispering to himself, 'oh! that's why he met me at the reception of the hospital and never invited me in'.
Throughout the night, Tina kept tossing and turning in her bed and kept crying silently. Early morning, in a blind rage she picked up the phone and rang Tonmoy. On the third ring, as Tonmoy picked up the phone, she shouted , 'why, why did you sell your kidney to buy me the diamond ring? '. There was a long silence on the other end and then Tonmoy's voice floated over the wire, ' why on earth, would I sell my kidney! I have joined this hospital as a radiology assistant and I bought the diamond ring taking a loan from my provident fund – -'. His voice got lost as she gave in to a huge relief sweeping over her exhausted body. Tonmoy's gift was still there, half opened. On a whim, she picked up the box and opened it carefully. She took out the diamond ring, sparkling in the morning sunlight. A short hand-written note fell off the box as she took out the diamond ring. Astonished, she took the note and read it quietly, 'I have kept my end of the bargain '.Crisp, cruel and unsigned. She sat in a trance, teardrops running down the cheek of eternity….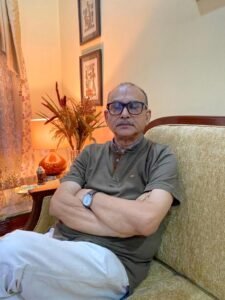 Formerly Managing Director of Numaligarh Refinery Ltd and subsequently also of Bharat Oman Refineries Ltd, a multinational company, Dr Das presently works as an independent consultant, coach and trainer. He had also served a tenure of two years as Emeritus Professor of Dibrugarh University. He is an acclaimed poet and a fiction writer and writes in English