Spending time on the terrace had become a habit and is more a ritual these days since the pandemic began overtaking our lives. The openness of the few feet of space on the rooftop seems to encompass an entire universe, witnessed from a vantage position, providing respite from dreary, stagnant lives. As the mellowed sun readies to drift into the obscurity of the night, the frequently changing hues resembled a breathtaking palette before awestruck eyes.
The attempts at capturing the last few remnants of daylight playing pyrotechnics onto the scattered clouds with a mobile camera felt utterly futile. Meanwhile, few souls on the rooftops of homes stay on to gaze – soaking in, hanging onto the magically transforming fleeting moments, silhouetted against the melancholic evening.
The conflicted confinement of the initial days has gradually given way to a slightly more settled existence. One presumes to have made peace with the circumstances surrounding current lives in the absence of any foreseeable remedy. The maids have been summoned back to households and the kids are at their playful best outdoors. Vendors arrive with truckloads of essentials, delivering their stuff – making the procurement a big relief. The dry cleaners, salons, pubs, malls and restaurants, have started servicing customers with carefully sanitized, cheerful staff. The urgency of traffic hints at a return to regular life.
Quite a few have given up on the importance of facial masks. A fatigued mind lulled into complacency with living on the edge the past months. While masonry work on the pavement and drains in front of our home continues. So does construction on the stalled apartment of the property adjacent to ours. Few friends hold discreet birthday parties in their homes, smug in the belief no harm can befall when celebrated within closed circles. Social media is agog with celebrations of the conjugal kind while some are fated to watch funerals in a situation gone out of hand.
Evening walks have resumed – triggered by the desire to free from the strict regimen. Raging conversation in soliloquy during walks across the desolate neighborhood egged on by the surge in energy. Few homes radiate a gloomy look – emptied of the warmth, as occupants contemplate a return.
The day seems momentarily frozen in the twilight through the parted curtains – a habit also newly acquired has been to watch the daylight fade out eventually. Equally calming is to silently take in the flux around; as the mind adjusts to the belief that 'home provides a sanctuary.' The resultant instinct is to retreat deep within – losing interest in reconnecting with an outside world after months of forced seclusion.
This habit of drifting in and out of reverie is halted abruptly by the impatient calling of a seven-year-old. A prominent frown on his forehead at being kept waiting – the summon was to know what colours to choose for his drawings – is instantly rewarded with immediate attention. Later, the conversation wanders off elsewhere, meandering towards the everyday mundane.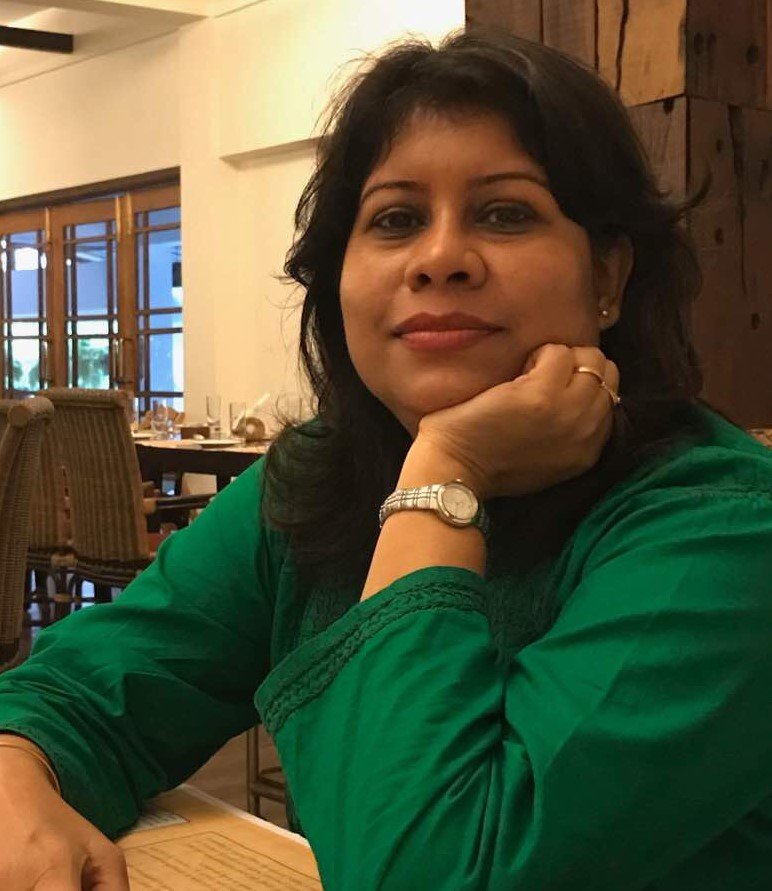 Zerine Wahid is a poet/author based in Guwahati and has been contributing her poems, short stories and articles in some of the city-based dailies for some time now. Her poems have been published in The Horizon of The Assam Tribune and Melange of The Sentinel. Besides that, her articles (nonfiction) and short stories have appeared in Newsmove, Gplus, Don Bosco Guwahati souvenir magazine and Tezpur University Silver Jubilee magazine, Telegraph, The Assam Tribune and in 'Ode to a Poetess', a digital platform