Grasshopper Chronicle Part II (Chapter II)
We were in the middle of the neota, reading the multiplication table chaotically loud when Sir, adjusting his dhoti, put his right feet on the chair and placed his right elbow on the knee to fan himself with a hand fan made of palm leaf. We also had similar fans at home which were bought every year from the Ashtami mela at Dhubri. Sir must have bought his one from there only.
As the neota reading was on, at its highest pitch, Sir was finding the environment so soothing to doze off. At that we saw some people, looking so impressive and important, entering the school campus. They looked very busy. First they came towards our class, peeped through the door, smiled at Sir and then they went to our Head Sir. After some time we saw pupils were coming out of the classes and gathering in the playground. To our utter delight, our Sir told us to go out of the class and gather in the playground.
Like the suddenly released rats from a trap, we rushed towards the playground to stand in two long columns. I and my cousin, Jinti, were in front holding a big banner proclaiming 'Jai Ai Asom' (Long live mother Assam) and then we went to the 31 National Highway and moved towards the high school to join the bigger lot.
Soon we were on the streets, shouting slogans loudly and rhythmically. Nothing could have been as exciting as this. We circled around the whole of Golakganj and for the first time in life saw the whole of our own great place. People came out of their homes to see the long slogan shouting line on the road with curious faces; they found it funny, for almost everybody was chuckling at us. I even saw my mother standing by the road to witness this sudden occurrence, also saw our uncles standing there looking at us. I and my cousin felt good when we saw them. In fact, Jinti was the first one to notice them:
 'Look there, look there, khura (uncle) is standing there.'
I saw him and turned my head away and looked straight holding one stump of the banner along with Jinti and began to shout louder.
They said, 'Sadau Asom Chhatra Santha Zindabad.' We said, 'Zindabad, zindabad!' (All Assam Students' Union Long Live); they said, 'Bahiragata husiyar!' We said, 'Husiyar, husiyar!' (Beware, beware)
We were going through one of the most exciting moments of life.
As our procession reached Maa Kali Studio, the only photo studio of Golakganj, Badal Karmakar, the owner of the studio and the most renowned photographer, came out with his Yashika camera. He flipped open the top of it and in his habitual gesture asked all of us to smile. We became more alert and stiff and smiled. Then, one of the leaders quickly intervened and told us not to look so happy in the photograph but advised us to look serious. We tried not to look happy though we actually were. Quickly we turned our faces grim. Directions came from the leaders to give a proper pose. Even the policemen standing and watching us told us to give an impressive pose and asked Mr. Sarkar to take pictures from various angles.
After the photo shoot came the most startling news. We got nervous for a while and did not know how to react. Ashwini da, who we realised must be one of the most important leaders of us, came forward and very sombrely and seriously revealed the news. He stood on the slightly raised verandah of Sudama Saha's paan shop and said:
– 'My dear brothers, sisters and friends, now we have to proceed towards the police station because as per the government orders the OC of Golakganj police station has arrested us. All of us. Now without making any noise, with utmost discipline we should go to the thana compound.'
All enthusiasm came to an uneasy halt. They seemed to have lost the energy to shout those rhyming slogans anymore and to make the situation worse Ashwini da added:
-'Friends, for the honour of our motherland, for the future of our country, to protect our land we are not at all afraid of any police atrocity, we do not fear to die, if one Ashwini dies thousand Ashwinis will be born. Mahatma Gandhi, Jawaharlal Nehru, Subhash Chandra Bose sacrificed their lives for our mother land, Maniram Dewan, Kushal Konwar, Piyali Phukan, Kanaklata died for the motherland and we as their ideal sons and daughters do not hesitate to sacrifice our lives either.  Jai Ai Asom. Sadau Asom Chhatra Santha Zindabad, Ah oi ah….'
However, the tempo did the trick and we were stirred to follow the pitch to shout slogans after him, we shouted together, 'Olai aah!'
Sensing the possible retreat of some of the revolutionaries, another leader, Bancha da, warned rather sternly:
-'No one would leave now. Everybody must move towards the thana ground.'
We were pinned in front with the banner in hand, so out of compulsion we had to lead the procession towards the jail when others behind started shouting slogans with fresh energy. 
As we reached the ground the group dispersed. They formed small groups mostly discussing their imminent fate. Some even went near the office to peep through and to have a glimpse of the jail where all of us were supposed to go after some time. We saw one dark room closed with iron bars. We also over-heard them discussing that the jail was too small to accommodate all of us. Either only the senior ones or only the junior ones would be sent into the jail. With bated breath we waited for our destiny.
The police compound was teeming with the revolutionaries. But by now nobody seemed worried or tense at all. Some of them, mostly from the high school, started playing Bou Chee in the compound. That the arrested inmates could afford such frolics was beyond us. But as we were feeling happy, suddenly we were summoned by one of our leaders and were asked to assemble in front of the sprawling verandah of the thana. This time we could well anticipate something dramatic was on the cards.
We gathered. Two of the police constables appeared with giant aluminium buckets and all of us were given sweets, biscuits and soaked grams. An unknown wave of utter satisfaction seized the mood. We were extraordinarily happy. We wanted this revolution to go on and be arrested every day like this. At around three in the afternoon we were told that we were released from jail but the case would go on, whatever that meant. One by one we put signatures on a paper. It was a great feeling. After this Nagen da delivered a lecture from the verandah of the thana itself:
-'Friends, for today our agitation comes to an end. But the agitation will go on till our demands are fulfilled, till we can make our motherland free of bidexis, for this if we have to get arrested, so be it, we fear none; for that if we have to die, so be it, we do not bother.'
We shouted- 'Joi Ai Asom'
He then said, 'Now maintaining discipline we will leave the compound.'
            By that time going back to school was out of question. We headed straight home to our perturbed parents. But they too seemed to be equally excited about the sudden change of atmosphere at a place as eventless as Golakganj. To the inquisitive parents we quickly narrated the day's developments and rushed to the school playground to play football.
            Moinal, Tonda, Shukatu had already set up the field. They would always manage odd bamboo strips or tree branches to fix as goal posts. We brought the ball. They hardly came to school, so we met them only during the game time. Most of the times, when we were inside the class, they would be having fun diving in the pond. They were experts to climb the Arjun tree on the edge of the pond and to plunge right into the water with big splash. Nobody taught them how to swim. Moinal told with aplomb, 'I knew it from birth.'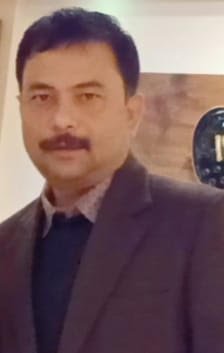 Jyotirmoy Prodhani
Professor, Dept of English
NEHU, Shillong