JAIPUR – UNDOUBTEDLY MY FAVOURITE INDIAN CITY
JAIPUR – UNDOUBTEDLY MY FAVOURITE INDIAN CITY
As people say, sudden trips usually succeed. And my first ever college trip has beautifully proven this fact. Stacked with society rehearsals, college festivals and some amount of classes, finding time for a trip appears to be real hard. But, we have to agree on this. Strikes and protests are not always bad. I mean they may hamper the regular functioning of institutions but, they also bring an unbending relaxation to student's souls. I know our divinity will never forgive us for having such thoughts when in the bigger picture Delhi University Teacher's Association (DUTA) is constantly protesting for their rights. But, let me be straightforward and honest, this trip happened only because of the regularity with which the strikes and protests were taking place.
So, on 2nd of March, I sailed along with my PGmate, Chewang (pronounced as Chong) for my first ever college weekend getaway. Actually, it was a weekend cum weekday getaway. We left Delhi from Dhaula Kuan Bus Stand at 8:15 PM and reached Jaipur by around 2 AM.  On reaching Jaipur, we realised that we had made a big mistake. The hotel we booked was literally far from everything. It was far from the main city and all tourist places. Basically, we booked our hotel in the outskirts which means we would have trouble travelling to the places we want and the cost of travelling would drastically increase. However, we were optimistic and thought everybody makes mistakes in a trip and it was indeed our first college trip. It was our first trip where we had done all the planning. Despite everything, we took an auto all the way to the hotel (This auto driver was one of the kindest auto drivers I have ever met) and went off to sleep in the hotel for a brighter and an exciting day.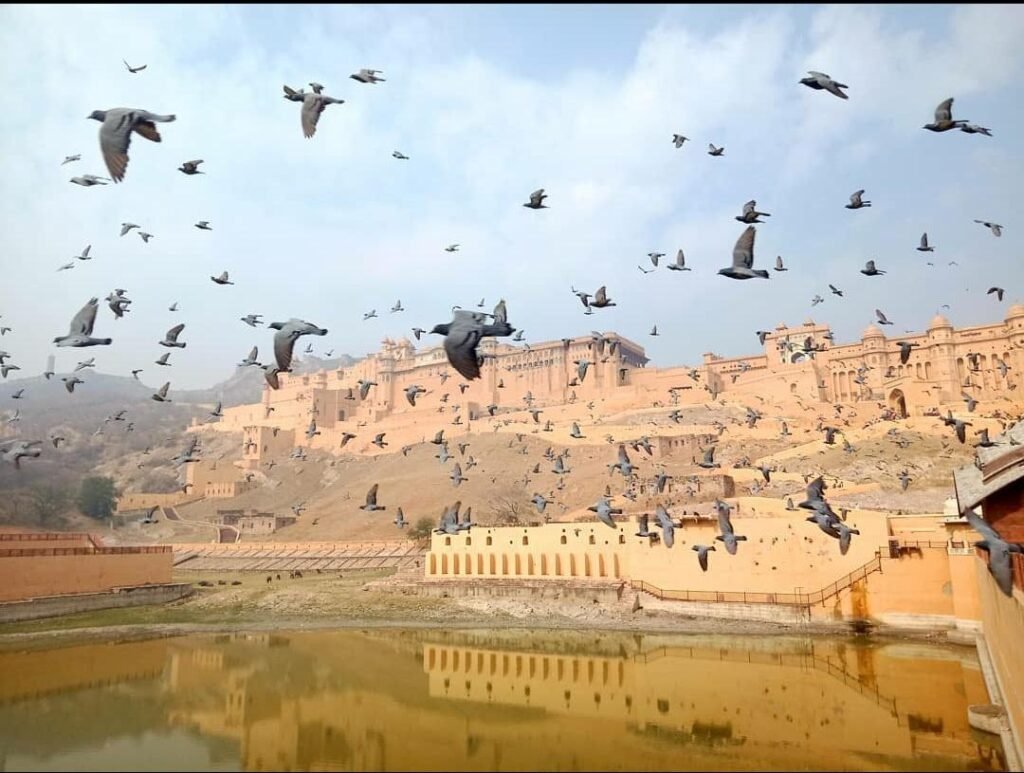 After having a delicious breakfast, we set out to explore the city of Jaipur. We preferred taking Uber cabs as it was affordable and indeed becomes less if you split. Since, we had to meet my friend from my school, Jayitri at around 12 PM who would act as our tour guide; we decided to explore some unexplored sites in Jaipur before that. So, our first destination was Sisodia Rani Palace and Garden.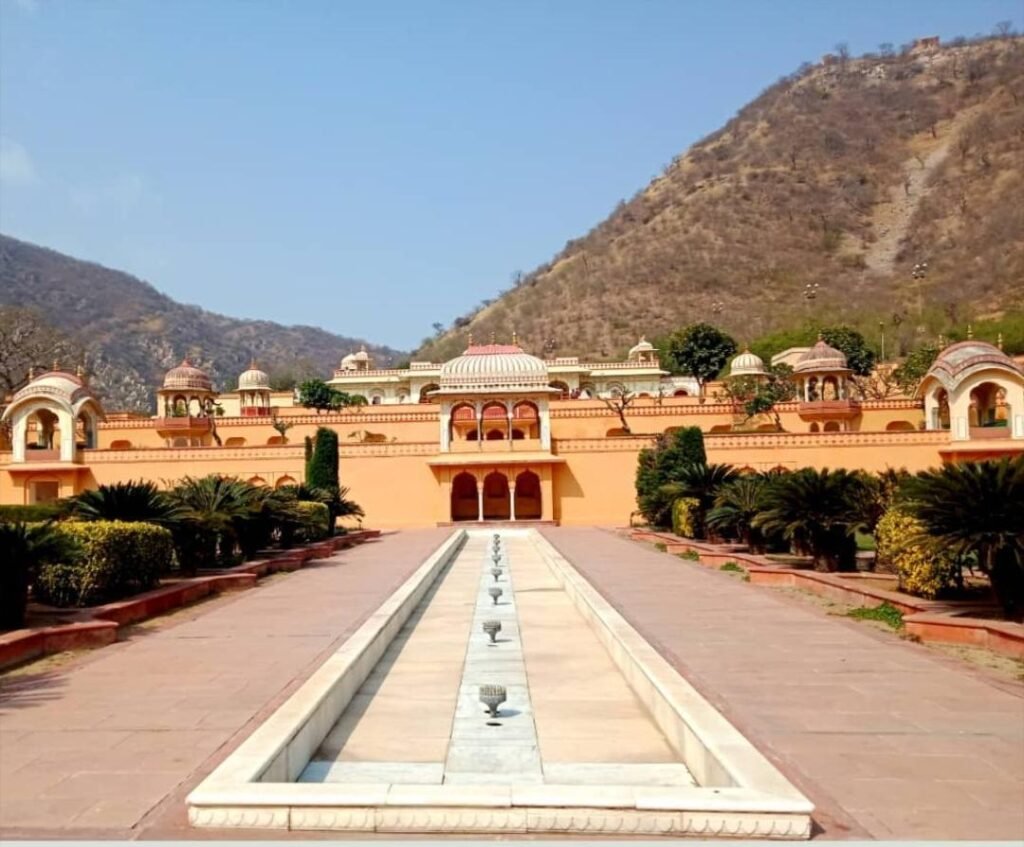 It was built by Maharaja Sawai Jai Singh II in 1728 for the Rani. The palace consists of multi-level gardens with fountains, beautiful architecture and also scenic beauty of the Aravali range. It is a very peaceful location in the city and you are certainly going to have a great time here. The locals including the cab drivers may discourage you to visit this place but, don't you miss it. Watch out for the streets outside the Sisodia Rani Bagh. You will be bewitched by the authentic look of the walls. Ask your cab driver to stop there and you may end up finding the best pictures for your Instagram Account. And you cannot be more fortunate if there is a blue cloudy sky.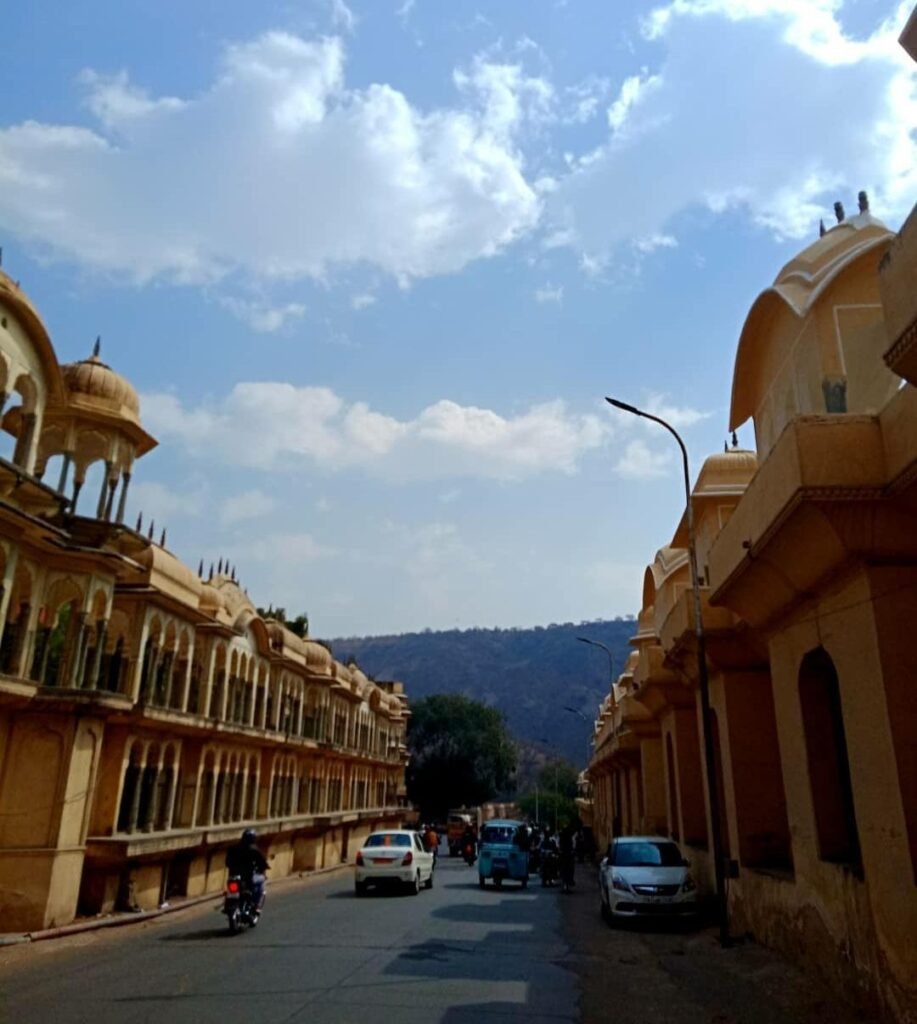 With this, we booked another cab and drove to our friend's place who would be our guide for the city. On our way, I spotted the marvellous marble temple, Birla Mandir. We decided that we would visit this place later with our friend.
The real day finally began when we three coalesced. She advised us to book a rental for the day and we did. It had cost around 1800-2000 for the day but, it can lessen down if you have some commendable bargaining skills. Picking her up, our cab driver persuaded us to visit the Nahargarh Biological Park (probably commission). As the name suggests, it is a place that conserves some flora and fauna of the world. Thus, it is a biological park featured by some average location. Honestly, there is nothing much to see in this place. And to be specific, it has nothing very unique. It is the usual biological park that we get to see in a city. The cab driver persuaded us to visit this place which according to him would give us a sensational experience. Thus, we were fooled so that he gets his commission. To conclude, the place is not bad but not worth your time and money in a magnificent city like Jaipur. Also, if you still want to visit this place, trust me, unless you have no serious medical issues, you can effortlessly walk to see the park. You shouldn't waste your money in renting any vehicle.
After an uninteresting site, it was time for something exhilarating. It was time for Nahargarh Fort for which I was super excited. As we were moving close to the fort and surpassing those winding roads of Aravali, I was enchanted by the enthralling views of the Jaipur city, more specifically, the view of the Jal Mahal. I failed to capture beautiful pictures of the view because of my lack of photography skills but that view will remain affixed in my brain forever.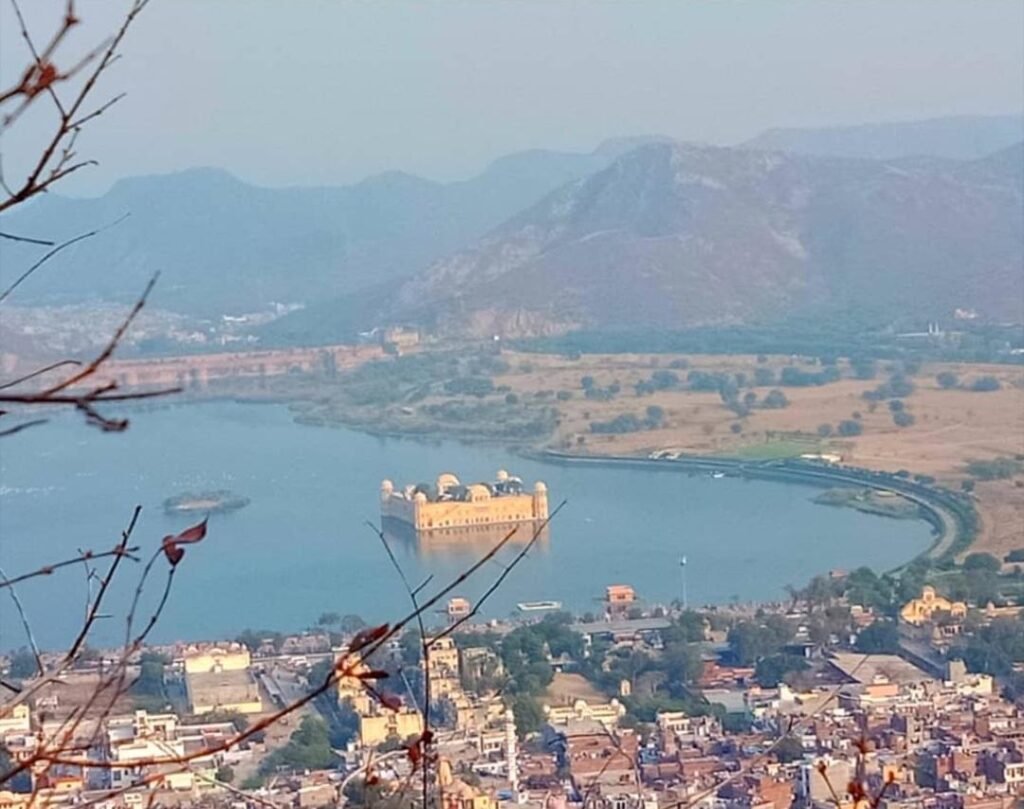 Very soon, we reached the fort. Before entering the fort, our cab driver took us to the baoli near the fort. I was amazed by its architecture. Also, one can get a spectacular view of the city and the fort from this point. It is the place where the famous Bollywood movie, Rang De Basanti was shot. However, it is forbidden to enter the baoli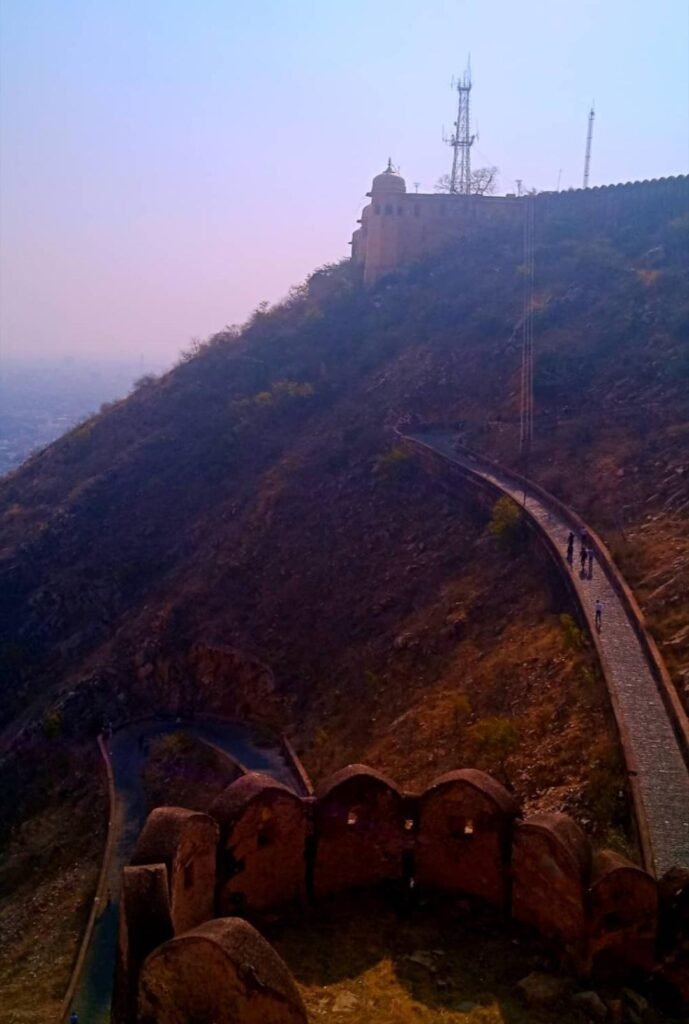 With this, we headed towards the fort. The word "Nahargarh" means 'Abode of Tigers' and it is named so because it was a common site of the tigers. Previously, it was named as Sudarshangarh Fort. It was built in 1734 by the founder of Jaipur, Maharaja Sawai Jai Singh II. It is believed that the fort is haunted with the spirit of a Rathore prince, Nahar Singh Bhomia. But, the cab driver told us that the fort being haunted is nothing but a rumour. The main attractions in this fort are Madhavendra Bhawan, Sheesh Mahal and Wax Museum. Being college students, we couldn't afford going to the Sheesh Mahal and the Wax Museum as going there may have hampered our overall budget and ultimately affect our monthly pocket money that we receive from our parents. However, we could visit the Madhavendra Bhawan which was built by Sawai Madho Singh. The architect of this structure was Vidhyachar Bhattacharya who had also designed the Jaipur city. Although the outer architecture of Madhavendra Bhawan didn't astonish me much, the inner design and framework of this Bhawan amazed me to the greatest. It is indeed the most finely preserved structure of Nahargarh Fort.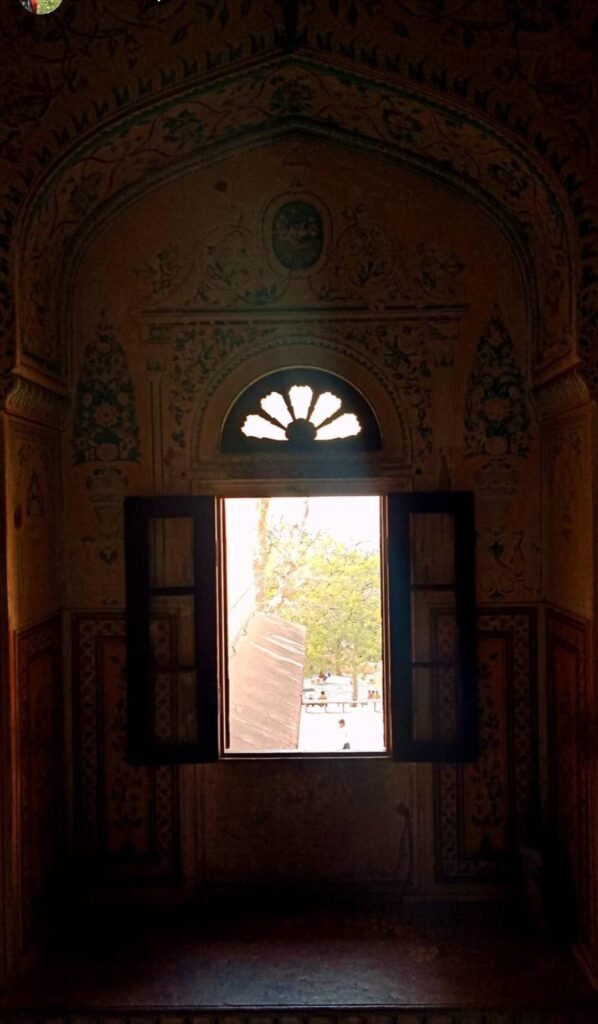 The framework of the labyrinthine suites for kings and queens, corridors, staircases and railings along with the incredibly crafted roof top will never fail to amaze anyone. The Bhawan is somewhat like a bhool bhulaiya, although not very complicated.  And, it will not fail to give you a few more breathtaking views of the city.
It was time to leave this beautiful structure. Now, I was hoping that we could go to the Jaigarh fort. But, the cab driver said that it was getting late and there was nothing in there except for huge cannons. Whatever be it, I always prefer to explore every possible place when I am travelling. But, I could do nothing as my friends were satisfied with the cab driver's manipulation and I was enraged for having gone to that below average Biological Park and missing out on something as grand as Jaigarh fort. Anyway, we were heading towards a few more locations. And, it was time for Jal Mahal. Jaipur as a city is really very clean at least in comparison to the Delhi city. But, the area in and around Jal Mahal was really filthy. The area appeared to me like the dirty version of Marine Drive in Mumbai. Even the Man Sagar Lake which surrounded the Jal Mahal was heavily polluted. I wondered how the beautiful birds like Cormorants, Egrets and Herons were freely flying over this polluted lake. Enough of my rants, it's time for some praise. The surrounding may not be very appealing but the main structure, Jal Mahal looks elegant. It is the most photographed place in Jaipur and honestly, it is not very difficult to get some majestic pictures of this Water Palace. It was built by Pratap Singh of Jaipur as a hunting lodge. Entry to the main palace is forbidden for the tourists. On our way to Hawa Mahal, our cab driver told us that the Jal Mahal floats on the water and is slowly drifting away from its original location. He also told us that he had heard news about it being bought by the Birla group by the government and thus converting it into another heritage hotel in the majestic city of Jaipur. However, I am not very sure about this news and it requires serious verification.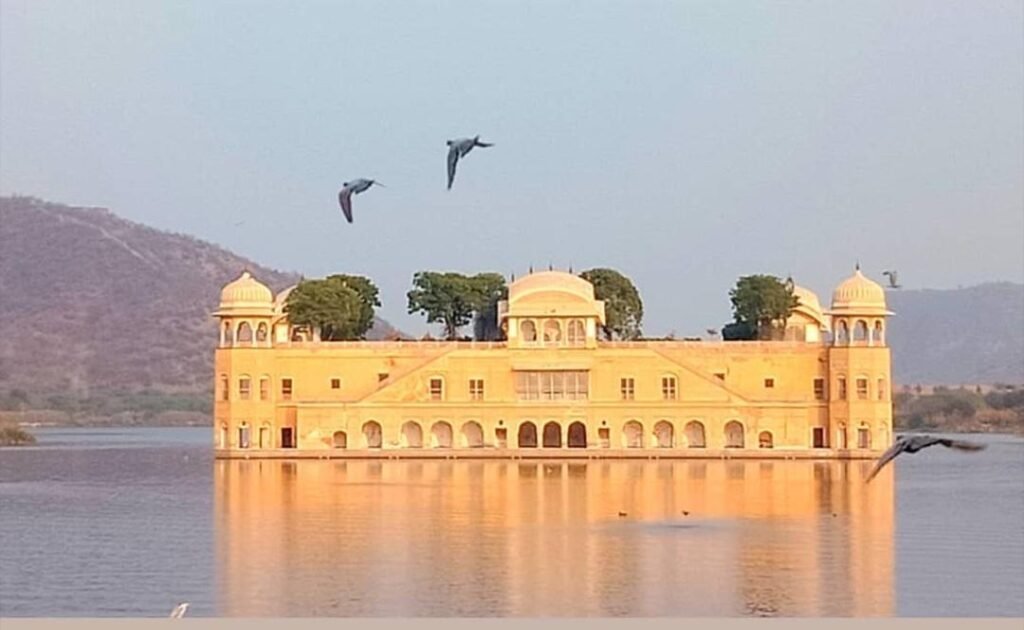 Few moments later we had reached the old city which indeed is the pink city (although, most of it appeared red to me) and thereafter we reached the Hawa Mahal. We all have heard enough about this Mahal. It was built in 1799 by Sawai Pratap Singh and has a total of 953 windows. It was built so that the royal ladies who practised the purdah system could enjoy the beauty of the everyday streets from the windows without being seen. Unlike the Madhavendra Bhawan, Hawa Mahal is indeed very stunning from the outside but has little to offer from the inside.  Even if you decide not to explore the interiors of Hawa Mahal, you will hardly miss anything.
The sun was setting and it was time for us to fill our empty stomach. Leaving Hawa Mahal, we were now on our way to World Trade Park (WTP), which is considered as one of the largest malls in India. We did some amount of window shopping there and satisfied our hunger by grabbing a burger in nearby MacDonalds. If you are looking for shopping and eating within your budget, WTP can be really expensive and the adjacent GT market is a great option. You can buy various commodities at a cheap rate. All thanks to our friend cum guide, Jayitri who was pretty experienced with this beautiful city. With this, our day 1 came to an end as we all headed towards our hotel for a fulfilling dinner and a sleep.
After the complimentary breakfast of our OYO room, we were ready for yet another day in Jaipur. Without discussing much, we immediately took a cab to the exalted Amer fort, also known as Amber Palace. A very funny incident occurred to us as we reached this majestic fort. Since, my friend, Chewang had a Mongolian look, one of the guides thought that he was Korean and he could rip him off. Sadly, he was little aware about the diversity of our country and the fact that a Sikkimese can look very different from a Rajasthani. I would never call it an act of racism, it is just sheer ignorance. The guide offered us to take a jeep all the way to the fort. He said that the other alternatives could be taking an elephant safari which can be expensive, especially for a student or one can simply take a walk till the fort which in fact, can be very tiring. It didn't take long to decide. We decided that we would walk. There are around 1000+ steps in the staircases but, it didn't seem that difficult and it wasn't. If you happen to be in this fort, always prefer walking unless you have enough money and you want to enjoy the Elephant safari. The Maota Lake affixed to this majestic fort was dirty but shiny. The pigeons wandering over this lake made the fort look even more sublime. I was stunned by the appearance of this fort. It is clearly one of the most captivating forts in the world and it truly deserves its tag of World UNESCO Heritage site.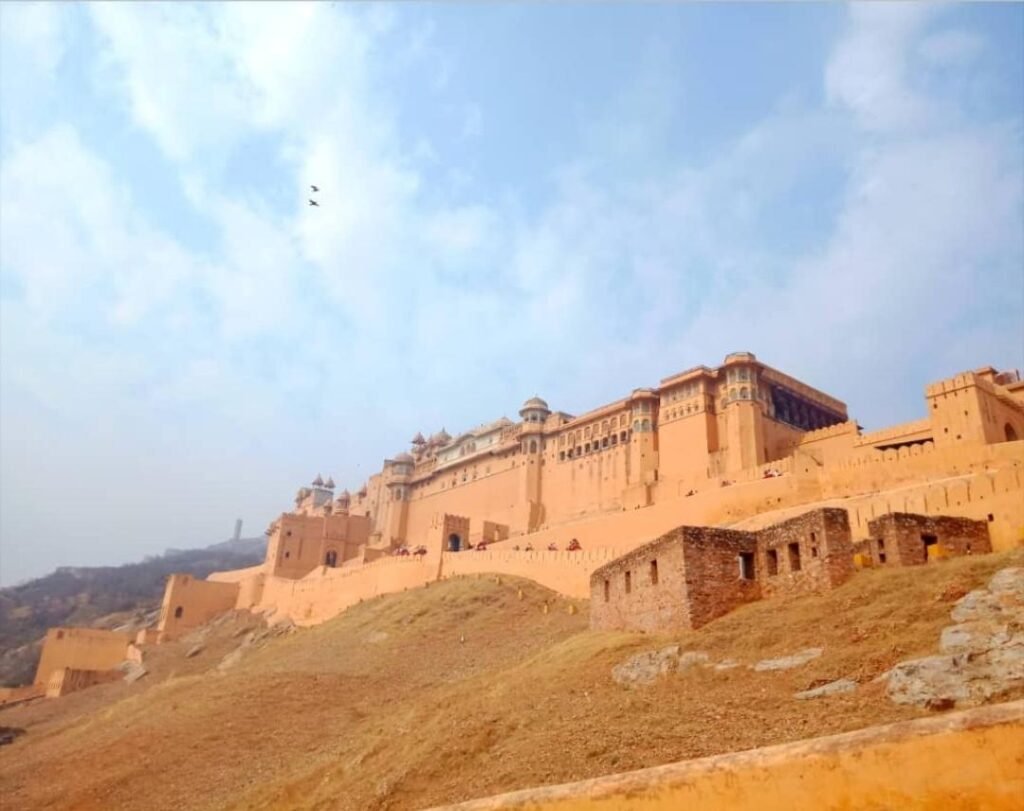 In less than an hour we had reached the fort and it maintained its staggering appearance. The view of the Aravali hills and the Jaipur city also added extra layers of beauty. The fort was built in the 16th century by a trusted general of Akbar, Mann Singh. Mann Singh ruled the area surrounding this fort. This area was known as Amer. This fort is a unique fusion of Rajput (Hindu) and Mughal (Islamic) architecture. The fort is made of sandstone and marble. One can get easily attracted by its luxurious halls, palaces, courtyards, gates and gardens.  Structures that instantly caught my eyes were Jaleb Chowk (primary courtyard), Suraj Pol (Sun Gate) and Chand Pol (Moon Gate), Shila Devi Temple, Diwan-e-Aam (Hall of Public Audience), Ganesh Pol, Diwan-e-Khas (Hall of Private Audience), Sukh Niwas and the Palace of Mann Singh. There are specific timings to visit the Shila Devi Temple which you need to check beforehand. Also, later, after we had left the fort, we came to know that there is an open air passage that connects Amer fort to the Jaigarh Fort. Tourists can walk this passage from the Ganesh Pol or take a golf cart. I regret not knowing about this back then.
It may take more than two hours to cover this fort and it is very much worth one's time. Post this, we asked our cab driver to take us to the City Palace, located in the pink city. This palace was built by the founder of Jaipur City, Sawai Jai Singh. This palace was once the seat of the kings and royalty still shines in this palace. There are two main palaces- Chandra Mahal and the Mubarak Mahal. Similar to the Amer fort, this palace also has a blend of Rajput and Mughal architecture. Few structures also have European style. The palace looks even more appealing as it is built with red and pink sandstone. There are two parts of this palace, one which is open to the public and has various touristy places such as museums (which may take a huge chunk of time if you are really interested in knowing the history of the palace and the city), courtyards and gardens; and the other which is not allowed for the tourists as it belongs to the royal family, the descendants of Sawai Jai Singh.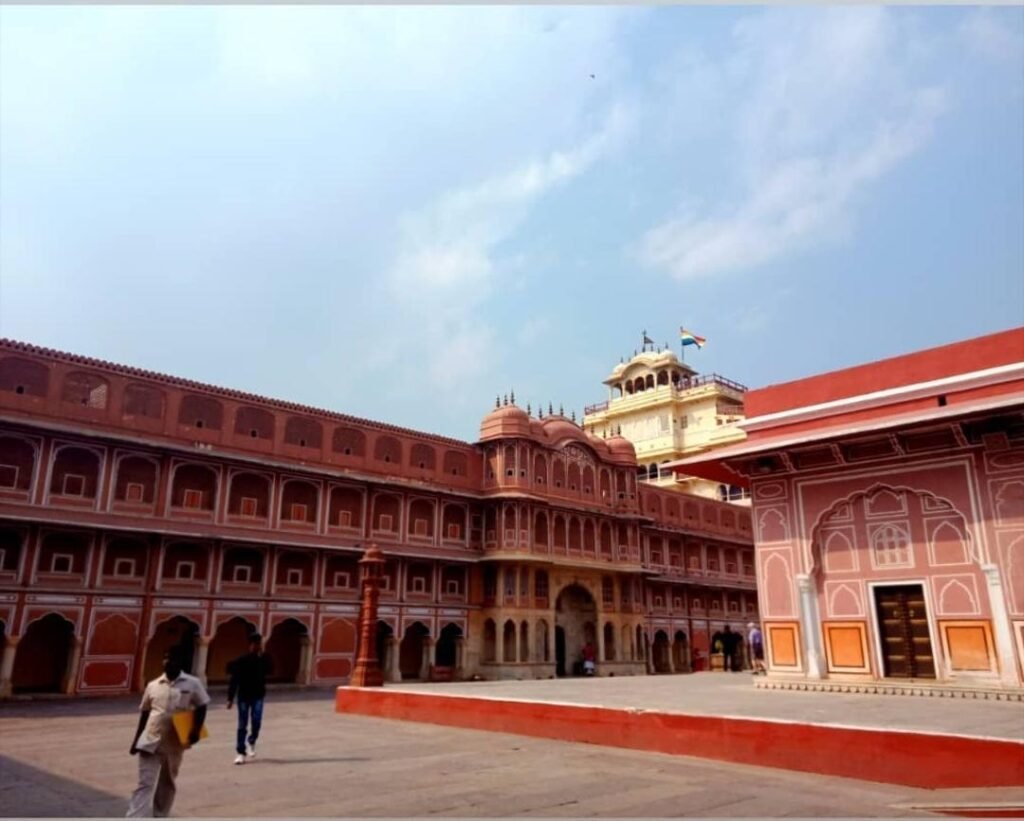 Having spent almost about three hours in this impeccable palace, we now set off to Jantar Mantar. It is hardly a ten minute walk from City Palace to Jantar Mantar. It is an astronomical observatory built in 1734 by Sawai Jai Singh II. It has the largest sundial in the world. There are five of them in India and the largest one is in Jaipur. Being a UNESCO Heritage site, it not only attracts tourists but also a large number of scientists, mathematicians, astronomers, geographers, architects and historians.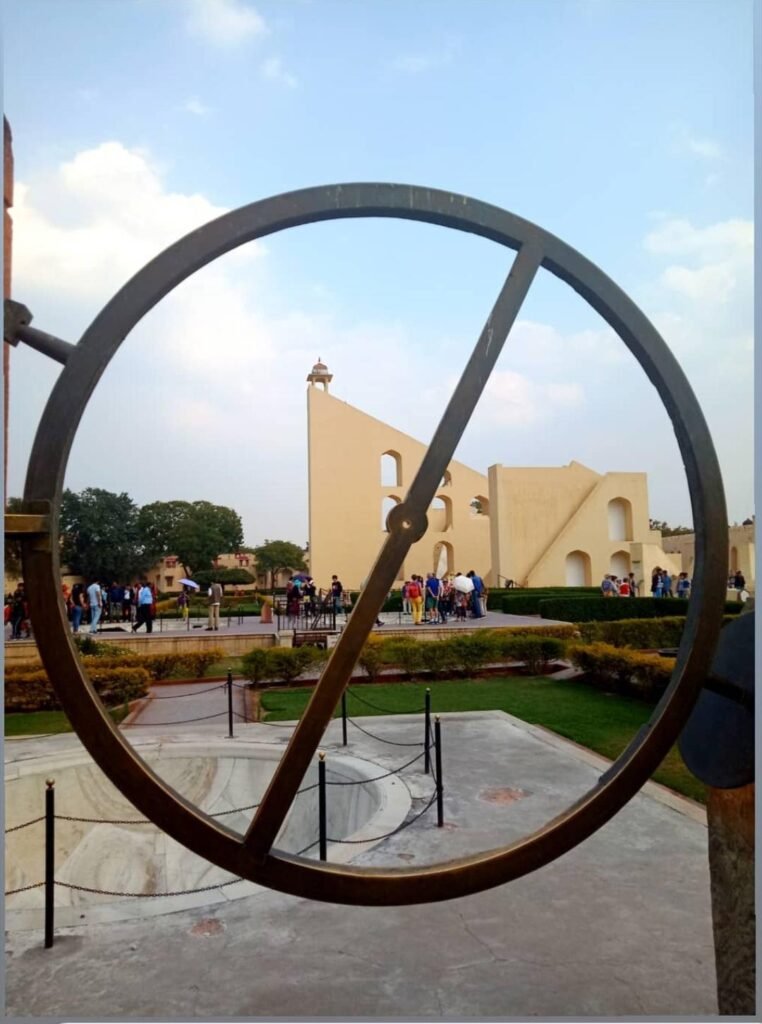 Leaving this grand structure, we decided to take another ten minute walk to Sri Govind Ji Temple. My friend told me that this temple is very beautiful and it is worth one's time. However, this temple has specific timings. It is closed between 12:30 PM to 5:00 PM and sadly, we landed there at this very time.
Dejected and hungry, we took an E-Rickshaw and asked the driver to take us to the Masala Chowk. It is a spacious area with innumerable eateries selling a variety of exquisite delicacies. You can try authentic Rajasthani food there or choose something else such as South Indian, Vada Pav, other North Indian delicacies, Chinese and many more. You will not be disappointed by this.
As the sun started to set, we now crossed the road and decided to spend some time in the St. Albert Hall Museum. With all the lighting, it has an unmatched dazzling aura as the sun starts to set. I was easily allured by the unique structure of this museum. The foundation stone of this museum was laid during the visit of Prince of Wales, Albert Edward to Jaipur in 1876. Initially, one couldn't decide on what use could this building be put to. Later, as suggested by a resident surgeon, Dr Thomas Holbein Hendley, Sawai Madho Singh II decided to open a museum of Industrial arts, showcasing the products made by the local craftsman. If you are an art and technology enthusiast, it is the right place for you and if not, then the architecture of this museum is enough to devote a certain amount of your time here.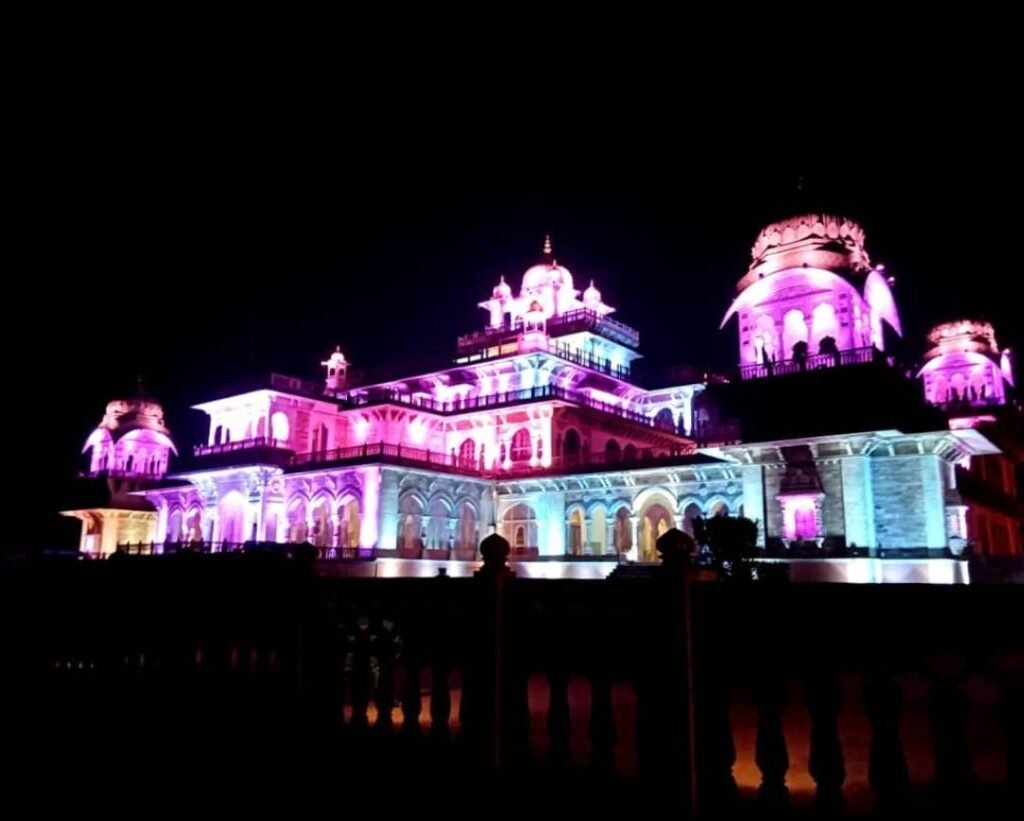 St. Albert Hall Museum marks the end of the Jaipur sightseeing. I was wholly satisfied with this incredible city. Doubtless, I was amazed by the various places I visited in this city. But, more than anything I was mesmerized by the roads and streets of this city. Just taking a ride in this city doesn't fail to dazzle me. The roads and streets have a different grandeur that makes the city look classier. I didn't want to leave this city so soon. Honestly, as a fortunate teenager, I have been to various popular cities in India such as Delhi, Mumbai, Bangalore, Chennai, Kolkata, Kochi, Agra etc, but everything just frails in front of this gorgeous city. This city has something that makes you fall in love even if you simply stroll around this city. Yet, good or bad, everything comes to an end. As the bus moved at around 11:00 PM, I knew I would miss this city and also my friend, Jayitri who had done everything to make our trip memorable. I had a bright smile on my face and a pinch of regret for having missed the Jaigarh Fort, Birla Mandir, Patrika Gate and Choki Dhani. Anyway, no trip is perfect and "kuch pane keliye, kuch khona parta hein."
Best time to visit: October to March
How we reached: AC semi sleeper bus
Other ways to reach: Jaipur has its own railway station (Jaipur railway Station) and airport (Saganer Airport)
Travelling in and around Jaipur: Mostly cabs, walking, auto
What we did and saw: Sisodia Rani Palace and Garden, Birla Mandir (only from the outside), Nahargarh Biological Park, Nahargarh Fort, Jal Mahal, Hawa Mahal, Amer Fort, City Palace, Jantar Mantar, St. Albert Hall Museum, World Trade Park, GT Market, Masala Chowk
What else can you do and see: Jaigarh Fort, Patrika Gate, Chokhi Dhani, Birla Mandir, Cycling in Nahargarh Fort, Hot Air Ballooning, Jhalana Leopard Conservation Reserve, Sri Govind ji Mandir, Raj Mandir, Elephantatstic Elephant Farm, Bhuteshwar Nath Mahadev Trek, Village Jeep Safari, Vidhyadhar Garden, Street Shopping in places like Johari Bazaar, Tripolia Bazaar, Nehru Bazaar etc.
Most of the abovementioned activities can be expensive for a student, so be prepared and research well before opting any of the activities.
Budget specifications (per head):
AC Bus (Delhi-Jaipur): 600
AC Bus (Jaipur-Delhi): 500
OYO room for two nights: 850
Extra expenditure (shopping excluded): 3000-3500
Total budget: 4950-5450
Few points to make your trip better/cheaper:
While booking your hotel, do verify its location. Try to book it near the Pink City. This way you would save money as well as time. (The extra expenditure of 3000-3500 can be narrowed down to 1500-2000 if a hotel is booked cautiously, considering the location of the hotel)
You can also save some amount by booking normal buses or travelling via train. You can also opt for the Delhi Sarai Rohilla – Jaipur AC Double Decker Express that leaves Delhi at 5:35 PM and reaches Jaipur at 10:00 PM. It is a superfast train and may cost around 500 bucks.
It is advisable that you take a guide in each of the tourist places. Audio Guides are also available in many of the places. This way you can learn a lot more about the places. However, beware of the touts masking as guides. Not all are authorised guides.
Carry your student ID. Jaipur is one of the rare places which provides discounted entry fees to the students.
Street shopping in Jaipur can be great. If you are interested in this, do carry an extra amount as you will be allured by the variety of products here.
You can get a composite ticket which gives you access to Amer Fort, Nahargarh Fort, Jantar Mantar, Hawa Mahal, St. Albert Hall Museum, Sisodia Rani Palace and Garden, Vidhyadhar Garden.
Price:
Indians: Rs. 100, Foreigners: Rs. 400
For Students:
Indians: Rs. 40, Foreigners: Rs. 200
Nabaraj Mahanta
A Geography student from Kirori Mal College, DU. Apart from being an active traveller, he has always kept an interest in dance, languages and cinema.