The Photographs from East Pakistan
The other day, my mother went to my uncle's house and returned with a grumpy face. She said, "Today when I went to Aradhana's (my aunt) she offered tea in a new set of china. Even the table lamp was of the latest design. When I asked, she said all those she got from the Royal Fancy Store, that too without having to pay a penny. The price of the things was to be adjusted with the monthly rent."
                My father did not pay much attention to what she said. At that, she got more worked up and retorted with exasperation, "And there we are, we do not have a house to rent out. Can't you build one?"
                "See, building a house for rent is not that easy. The house they rented out was already there. Besides, if she keeps picking up the titbits from the shop at this rate, they would hardly get a rent."
                "Whatever." Maa gurgled the word. She was not quite impressed by such logic. In the evening Maa took us to the Royal Fancy Store where she bought a new tea set, plastic mugs, spoons, plastic flower vase, and plastic flowers and many other things including bhujia, biscuits and also a plastic toy car for my brother. Maa was extremely happy after the shopping spree.
                Indranath Choudhury, the owner of the shop was very courteous. He was convincing my mother to pick up more things. Maa politely declined and said, "Next time, once I come with more money." Mr. Choudhury seemed to have been too embarrassed at the mention of money. He said, "Baidew, don't embarrass me, please. Take whatever you want. These are all yours. We are your tenant, and you are our landlord. I am so fortunate that you have come to the shop of this poor man. Take whatever you need, and pay whenever you want."
                Maa was quite pleased with the extraordinary courtesy of the owner of such a big shop. Mr. Choudhury also invited my mother and us to visit his house, "Please visit our poor house, my wife and kids would be very happy. It would be an honour."
                As we returned from the shop, Maa was all praise of the owner of the shop. Coming home, she informed my father how good the owner of the new shop was. Father said, "We know their family at Satrasal. From a very good background. They had big businesses and were a very rich family. But after the Partition, their house remained in India, and the shops, which were in Sonahat, went to East Pakistan and are now in Bangladesh. It is very ironic. They are Indian here but their business, all of a sudden, happened to be in a foreign land now. His other brothers too had to begin afresh. Some of them set up shops at Agomani, but since Golakganj is a much bigger market, it makes sense to start a business here."
                Maa sympathised with their situation. She said, "Because of the Partition, there are many such tragedies."
                Soon we were invited to the birthday party of their youngest son, Rahul. He turned three. After the birthday party, the frequency of visits increased. Maa, my aunt and the wife of Mr Choudhury became very pally. They even started sharing their cooked food. If Maa would send fish curry made with the fish from our pond, they would send some tasty curry with a nice aroma. We were told the curry was made of posto (poppy seeds), which we never heard of before. Whatever they would send would invariably be made with posto, be it big fish or small fish or with potato and potol (pointed gourd). We became curious about this new ingredient. As Maa showed some interest in posto, the wife of the owner gave a packet of posto to Maa. Maa tried to cook a dish with posto. It was nowhere near the fare kakima (aunt in Bengali) used to make. After that, maa never tried to cook anything with posto.
                One day kakima became emotional when we visited her house. It was Assam Bandh that day. All the shops were closed. There was nothing to do. So, Maa paid a visit to kakima's house. Mr. Choudhury was also there at home. Kakima brought out a big photo album filled with small square-size black and white photographs. She showed the photographs one by one—
                "Baidew, see these are the pictures of our ancestral house in Bangladesh. This was our house." It was a big house with the wall and roof in iron sheets and tall beetle nut trees behind. She said, "We had a big patch of beetle nut trees, the way you have here." She then showed us a pond and a big stone slab on the edge of the pond. "This was our pond. We hardly used to buy fish from the market. It was always from our pond. And could you see this white stone slab? It was where we used to wash our clothes. And you know?" she added with enthusiasm, "the water of that pond was so clean and tasty, I've never seen any other pond with such pure and tasty water."
She then showed another photograph, "This was our kitchen and the dining hall." It was a big hall. "We used to eat together along with uncles, aunts and grandparents. And, can you see this?" She showed a photograph of fish in a big bamboo basket. She explained, "These are the famous hilsas from the Padma River. We never used to have any hilsa other than from the Padma. Those were the tastiest fish on earth. Here, when their Rahul's father brings hilsa from the market, I cannot eat them, they are not at all tasty. Even the sweets are not as tasty as they used to be in our desher bari (original home)". Maa got interested in her story. She asked, "How old were you then?" "I was quite young, I even don't remember so many things. We never thought of leaving our house and coming to India, but gradually it became worse. Muslims used to harass a lot. They occupied our land and threatened us. So finally, my grandfather and my father decided to come to India. Then she showed us a photograph of an old model car. "This was our car. And you know, in that village, only we had a car", she said with pride.
Then there were several other group photographs of women wearing saree in typical Bengali ways in which the women looked quite round. She informed us that after the Partition in '71, almost all of them left their native village. Many of them were there in various parts of North Bengal and some got settled in Calcutta. Some of them were doing very well. She ruminated, "We had so much, but now we have hardly anything. Some of my cousins have done really well. One of them even has become a doctor and doing a government job in Bengal."
At least there was some solace after such devastations. She then informed that since they were from a reputed family in East Bengal, they were actively involved with Congress and the freedom movement. But after they had to come to India leaving behind everything, instead of Congress, some of her family members in Bengal joined the Communist Party of India.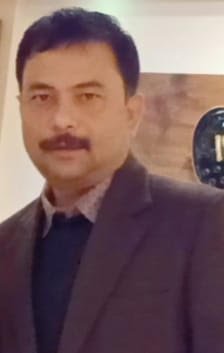 Jyotirmoy Prodhani
Professor, Dept of English
NEHU, Shillong