This time it will be different. Because you said so, my love. I could sense it in the little catch in your voice, the shy uncertainty with which you spoke. I already feel you close to me, your head against my heart, that curly hair swept up impatiently with a barrette you perhaps bought absent-mindedly from a jumble at an open air pavement stall at Sarojini Nagar. How much I know you and yet, how little.
The city falls away bit by bit. I roll down the window on my side, feeling the wind buffet my hair, breathing deeply, willing myself to be calm. The wipers clean the windshield of the soft drizzle sparkling the night. Hussain drives silently, expertly, and in the headlights I see the fluorescent markers in the middle of the road. I'm not sure. I understand only a little. I can hardly see. But something has changed.
Then ahead of us, this huge hulk of a truck, laden with sacks, hugging the road, is lumbering ahead so slowly that I feel my teeth grit. Hussain is blowing the horn. I want the sound to stop and I see the 'Keep Distance' sign on the back of the truck and I cannot help but smile. That's you, my love. Keep distance. Ever since you were this high. Don't hug me Mama. Don't hug me in front of others. No Mama, I can't sleep if I don't lock my door. Mama, have you been reading my diary? Then, from your hostel room at Lady Sri Ram, your voice muffled, far away. Am I crying? Of course not, I have a cold. Why do I keep my phone on silent? I don't like people looking at me when it rings. No Mama, I don't have boyfriends. Just friends. Tell that to Papa too. Don't be paranoid, please.
Our car sweeps towards the airport terminal. Hussain parks and getting out, quickly holds open the door for me. I buy a ticket, enter the lounge and glance at my watch. I have an hour to kill before you arrive. I sit on a chair, then get up, have coffee in a styrofoam cup, digging into my bag for my purse, then scalding my tongue, wandering to the book store, my eyes flitting over the display. All the John Grishams and Jeffrey Archers you and I never read. And Fifty Shades of Grey. I wonder if you are a virgin any longer. I will know, tonight, time drags.
The announcer's voice drones over the PA system. Children scamper between the seats. Stewardesses in slit shirts and perfectly made-up faces stride across the floor in their pumps. I cling to these scenes before me, fearful of what you will reveal and if I have been foolishly hoping for glad tidings.
Misha, there are times I feel you are a stranger, an actress in a European film perhaps, which I have to watch without English subtitles. I see you frail, small-boned, hair tumbling down your shoulders, that silver stud on your nostril. In drawstring pajamas and batik printed shirts, a backpack holding nearly everything you own on this earth. And those square glasses that seem to be a kind of protection from the world. You lead a life I know so little about, I feel for you that same ache of tenderness when you were in my womb, floating in my amniotic sac, eyes squeezed shut, thumb in your mouth. And then this evening, minutes from now, something is going to change forever.
Silly me, my thoughts are scattering in all directions. Is it my menopause, or is it you, Misha? Late that night, years ago, when your Papa came home after cremating your grandfather, I told you that koka was now a star. You ran to the window, you were just five. You came back to me.
"Which one? I want to know. Show me which one is koka!"

Which one, which one is he? Someone special is coming on the Delhi-Guwahati Spicejet flight with you tonight. An impulsive trip home for two days. So unlike you. "I want you to meet someone special Ma. Is that okay?" There is that tiny note of uncertainty in your voice. But why do you want me to come alone to the airport? I am made to understand you have found true love, for on the phone you use that secret code we have between us.
"Yes Ma, black roses." And to think I had despaired of hearing black roses falling from your soft lips, the words faint, as if there is the roar of an ocean muffling your voice. Now, at twenty-seven, love has come calling, I imagine your face alive in the flame of this new love, your steps light, as if you are floating in ether. I see a man holding you in his embrace, smoothing back your hair, murmuring in your ear. I don't care what he does, where he comes from, what degrees he holds and what success he has had. For too long you have been like a monk, alone, lost in your thoughts, removed in a quiet way from the world. It is time. Not to be alone. Even in your dreams.
Black roses, what do they mean? Of course you know. Years ago, when you were sixteen. I had wanted to talk to you about love, to prepare you. So that you would not be hurt or have illusions. And I trusted you with a secret. How when I was seventeen, I was in love with a man for a brief summer.
How my uncle's friend visited my grandparents home every dusk and took the whole family to the movies. And how in the darkened theatre hall our fingers touched and we clasped our hands and interlaced our fingers as if we had been born to perform that unbearably sweet act. And how he took us to his home and we sat with his family in a large living room with a chessboard floor and how we went upstairs through a special staircase to the rooftop garden which had eleven rows of black roses growing in ochre red tubs and how I sat on a wrought iron swing as he smiled secretly at me and I believed I would sit there forever. But the next winter when we visited our grandparents on vacation I found that without a thought about me, he had brought home a woman whose gold bangles tinkled as she handed out full glasses of ruby red Rooh Afzah, bending carefully because of her swollen belly. "Black roses," I tell you when you are sixteen, lying on the bed with you. "I never forgot them. And last year, when you taught me how to use the net, you know what I did? I googled black roses. Reading about the pitch black Turkish Halfeti Rose, Black magic roses, the Bacarra rose. They say pitch black is almost never attainable, especially in a living rose, but that doesn't mean you should give up."
"Do you think I too will fail in love?" you had asked, "Or have an unhappy marriage like you and Papa? "Of course not!" I laugh. "A beautiful girl like you should get more black roses than you'd care to count."
So that was our secret. A quest for your black roses, even if mine had wilted away in the rubble of broken love. I wait, your Papa waits – a little prickle of worry, a vague unease. You are, after all, twenty-seven. You have a Ph.D on Emily Dickinson, a contract teaching job at a Delhi college. It's time Misha, I want to say. Stop floating, tether yourself to the real. And this morning, when the phone rang, and you spoke of wanting to come down, with someone special, my heart raced and I saw your Papa look up from his paper and black roses unfurled their velvet petals in front of my eyes.
An hour has gone by. Your flight has landed. I wait close to the arrival area. The passengers stream in from the shuttles on the tarmac, moving to the baggage carousel. I strain my eyes to spot you. My throat feels dry. Then you are walking towards me, smiling, frowning, till I reach out and put my arms around you. I look for him, the one you love and all around people are jostling, talking, waving. You gently extricate yourself from me and then I see her. She is behind you, a tall girl with her hair cut like a boy, dressed in jeans and a checked shirt. Her kohl lined eyes rest upon me quietly, wary.
"Ma!" you smile, your eyes on her, ablaze with love, the abundance of velvet black petals. "This is Akriti."
There is a small pause. Everything could change in a moment. Black roses are rare. I smile at them and say "Let's go home, shall we?"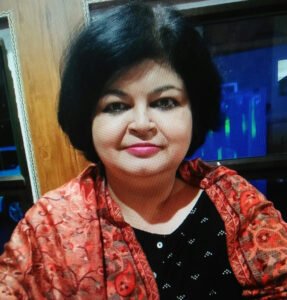 Indrani Rai Medhi is a journalist, columñist and author. She has won the Kunjabala Devi award for investigative award for women issues and the Yamin Hazarika award for excellence. She has authored 12 books.