The Saga of Doury & Youdi – Chapter 9
When you plan a war, remove the Obstacles first
Characters inspired by Vysa's great Indian epic. The story line is set somewhere in the distant future. In no way should the storyline be compared to Vyasa's magnum opus
Do you remember Aklee? We spoke about him. The dark handsome lad, whose thumb my father had severed as a penalty! The kid who had challenged Arzee. The lad whom Doury embraced as a friend.
I was happy that we had Aklee on our side. I anticipated we needed all the strength we could have, on Doury's side. Doury however had embraced Aklee out of respect and a desire to try and 'right a wrong' his family had bestowed upon a cornered Aklee.
I anticipated Doury will need all the help he can get. I anticipated a family feud in the brewing. I still wonder, did Krey plan this entire feud?  Or did he just see it coming?  I believe, he had for the war, much before it actually started.
In retrospect, now, I can clearly see how all obstacles were eliminated, one by one, methodically. All incidents unrelated, yet all strung by the same thread.
The Kooroo family feud has been chronicled by many. Ever wondered why all the key people, like Aklee find no mention beyond one incident. What happened to Aklee?  Where did he disappear? He could have been one of the strongest forces with Doury. Yet he never could see the real battle that came. Nor did Jarsandz or Shipalz and many more. They were eliminated in various unrelated incidents. The hot-headed brawny might of Bremz was used strategically in many of these unrelated incidents. And Bremz always though he did it for honour and justice! He was made to believe that.
But Aklees death was an enigma! No one ever spoke about it.
Very few knew Aklee was Krey's cousin! Son to the elder brother of Krey's father. Disowned as a baby. Adopted by a small-time corporate leader, from a market which everyone thought would never be a part of the Kooroo family glitz and conflicts. Way down in the pecking order, in a different world. Perhaps someone wanted Aklee to disappear in a different world. He however got entangled right in the centre of it.
Krey knew all this. In fact, there was nothing that Krey didn't know.  He connected the dots or disconnected them, at will; to draw the larger picture. His plans were immaculate for the vision he had.
Aklee was killed brutally. Skull crushed in by a stone. Krey accepted it. Culpable homicide.  Something he had done in self-defence. In a moment of rage.
The genesis of that "moment of rage" is however very sketchy.
Krey had eloped with Rakmynee. Of course, with Rakmynee's consent! Her brother Rakmy was however as hot headed as one could be. Friend and loyal to Jarsandz.
Jarsandz was one of the few leaders who dared defy and call out against Krey. And he was a power to reckon with. Krey knew it too, and showed respect to a strong enemy, as one should. Sheer coincidence that Aklee, Rakmy and Jarsandz were friends!
Some say Aklee 'volunteered' to rescue Rakmynee.
Knowing Aklee, he wouldn't have known Rakmynee wasn't required to be rescued, as she had eloped on her will. Poor Aklee wouldn't have known that. He must have rushed in to help. Krey was anyway not someone he carried any affection for. He however mis-judged the sheer power of Krey.
News float in, in bits and pieces from the world on the other side. Krey was usually the conduit for information from both these distant worlds. The Kooroo clan was eons away from all these and had to accept whatever news floated in, as is.
The other version was – Aklee swore vengeance when Jarsandz was eliminated. By Bremz! By deceit. Prodded by Krey!
Aklee saw through the charade. The mighty brawn of Bremz acted like a puppet with the strings being pulled by Krey. Aklee swore vengeance. He dared to call out to initiate a corporate battle with the Yadyz group of Krey & Balreyh. Had it been a fair game, the mighty and just Balreyh would have tackled and mitigated this. But then everything just remained as a cry from an anguished Aklee! Just words he blurted out, in anguish.
Aklee was found dead, his skull crushed by a stone. Krey took onus. He had to do it in self-defence as Aklee had attacked, physically!
I never believed in rumours or the grapevine. Rumours will always have different versions. But even the grapevine would have a common thread somewhere. Aklee was denied even that!
Did he run after Krey to rescue Rakmynee? Or did he attack Krey seeking revenge of his friend Jarsandz's elimination?
Both the stories are miles apart.
The only common thread was Aklee was found dead, his skull crushed by a stone. Krey taking onus.  An unwanted but necessary act of self-defence. Krey showered his magnanimity too. He forecasted the injustice meted out to Aklee by my father Dr. Ona would be avenged. Not that Krey wanted it, but things would happen!!  Never understood why he drew reference to an injustice from Aklee's childhood. Diversionary tactics, perhaps.
I do not have Krey's intellect to the scheming moves. All I see, now, in retrospect, is — When you plan a war, remove the obstacles that may come in the way of your victory. Plan the war. Eliminate the obstacles, and then wage the actual war.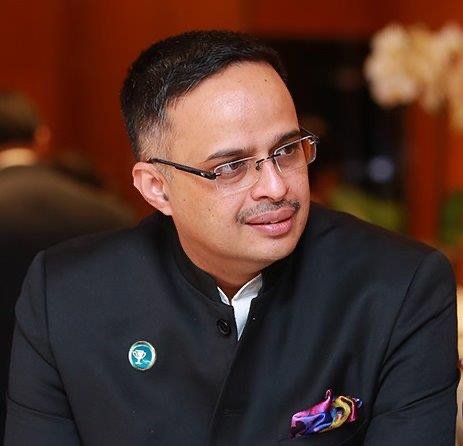 Nayan Ananda Goswami lives to D.R.E.A.M. – Drink, Read, Eat, Amble (about),Music & Movies.  A reclusive reluctant writer. In love & awe of the absence of the quintessential 'Good over Evil' in the 2 Indian epics.