As Maa served lunch, she said, 'Today we are going to a wedding invitation, so in the evening come quickly from the playground as I will have to dress you up.'
       'Whose wedding is it?'
       'One of the sons of Manikchand Khetawat'.
It was too good a news to hear.
       'I know them, one of his sons is a CA.' I flaunted.
            In the evening Maa dressed us up, me and my brother. With a new pair of cloth and shoes we were ready to go to the big programme. Maa was happy that coming back from the wedding reception she could spare herself of cooking the dinner for us that night.
        Manikchands were a very rich people, the richest of Golakganj. He owned the aluminium factory about which we even read in our books. We read, 'Goalpara is a district of Assam. Dhubri is the district head quarters of Goalpara district. Dhubri is situated on the bank of the Brahmaputra River. It is a very beautiful and healthy town.' We also read, 'There are many industries in Goalpara district, such as the paper mill at Jogighopa, the match factory at Dhubri and the aluminium factory at Golakganj.' We learnt it by heart and we were so happy that the name of Golakganj appeared in our text book. Today we came to the house of the owner of that aluminium factory that we read about in our books.
         There was no big gate or a compound in front of their house. They put two banana trees in front of their house with some sparkling toony lights around the trees and some golden paper bunter with words in Hindi- shubh vivah. They fixed some tube lights to illuminate the road. The house was almost on the road, there was not an inch of gap between the road and the steps to their small verandah. It was a house made of tin, both the roof and the wall. It looked like a poor man's house. As we entered in, instead of a drawing room, it was big hall but half of it was occupied by a very big bed, they called it a gaddi. The owner was sitting on the gaddi reclining against a long and large white bolster when several others were working on big copy books.  Even on the wedding day, some of them were busy doing their works. One thing struck me, a black telephone. I stopped there for a while to see them talking over the phone. I immediately thought; wish I could speak over that thing some day! Once my father told me that there were only a handful of telephones at Golakganj and Manikchands were the first ones to have a telephone. Their telephone number was very easy to remember, it was 1 since it was the first telephone of Golakganj. They were sitting on the big mattress covered in spotless white. Manikchand Khetawat greeted my father, my father nodded and my mother smiled and we were escorted inside.
          On our way to the wedding we bought a gift for the bride from Moti Saha's shop. It was a box of tea set. This gift was bought after a lot of discussions between my mother and my father. On other occasions to buy a wedding gift was not difficult, it would invariably be bell metal dinner plates, kanhor thali, which used to be supplied by Kartik Datta. On such occasions he would come to our house with the bell metal utensils in large bamboo baskets hanging from either ends of a bamboo stick that he would carry on his shoulder. He would display the utensils shining like gold in front of Maa to choose from. She would initially show her strong resistance to buy anything citing his stuff was too costly and the quality was too bad. Finally she would select the wares and he would tell the price after weighing them. The calculation used to be quite complicated; he would count the price taking several fraction of a kilo. Sometimes to have the price reduced Maa would offer him some old utensils which he would readily accept. With such exchanges the calculations would become further complicated. But Maa would never have the patience to verify the price and the weight; she would only complain that he was asking too much for the stuff and giving too less for the old utensils she offered to exchange. She would finally quote an absurdly low price to what Kartik Datta would bite his tongue and say,
               'Boudi, you'd kill me. At that price even the factory would go bankrupt, and as for me, I would starve to death right here.'
         But my mother would not show any emotion and be unperturbed to stick to her price. Then Kartik Dutta would bring out a paper and pen and do a lot of calculations while my mother would bring him a cup of tea and muri. Finally, he would settle for the price Maa had quoted, at the most with a slight hike by an odd margin. But then to pay him, cash was seldom used. He would be paid through dhaan (rice) which he would carry in a gunny bag. And as for Maa, she would end up buying several utensils; some of which may be used but most of them would hardly be used ever. After selling the stuff to Maa, Kartik Datta would visit my other aunts and my grandmother and grand aunts who would also do the same bargain. 
          But to attend a Marwari wedding reception with a kanhor thali looked odd. Besides, the kansa gifts were always packed in news paper sheets and tied with thin jute strings, called shutli. They looked very unimpressive. The tea set came in a box which was wrapped in pink flowery gift papers and tied with colourful ribbons. My mother gave the gift to the bride who was sitting on a flowery cot like a queen.
          The inside of their compound was huge, very big. Seeing at the poor looking front of the house one could not even imagine how big the compound was inside. One of the sons of Manikchand took my father along to show him the trees and other things. They had almost everything inside ⸻ a sprawling courtyard, huge godowns with very tall roof, several tree groves of litchis, mangoes, jackfruit, lemons, coconut, beetle nuts and all and also vegetable patches. Unlike ours, their entire courtyard was fully plastered, no mud or grass anywhere. They had a large field also little away from the courtyard. In one of the corners there was a long shed for the cows. The floor of the cowshed was also cement plastered and was very clean. The cows were given fodder in a systematic way, which the cows seemed to be eating also in a systematic way. One could not imagine that so many cows were there inside the compound.                   
        At a little distance they had put up a very nice and bright looking pandal where we would be served food. One could smell the lovely smell coming from the big kitchen nearby. When our father was speaking with other guests outside, Maa was busy speaking to several women inside the house.
        After a while the big moment came. We were asked to go to the area where food was being served. In those days, in other places, for a big feast like this, they would spread thick cloth on the ground and we would sit on it to eat from banana leaves and drink water from clay pots, called matir gilas. But here we were made to sit on low benches and foods were served on the high benches, as in our class rooms. They covered the high benches with white paper and sprinkled tiny rose and marigold petals on it. They covered flowery top with see-through plastic sheets fixed with tiny iron pins. The long desks looked so nice and joyful. We never ate on such decorated desks.
              As we sat, instead of banana leaves they gave us small paper plates and instead of matir gilas they gave us colourful plastic glasses. The ambience was so different. We felt very excited to be treated to such luxuries. They then served us food ⸻ fistful of bhujia, fistful of bundiya, a nimki, a kachori, a barfi and a rasgulla. My brother said, 'See, how good they are, what is served at the end of the food they are serving right at the beginning.'
            As Ashok da who became a CA, came to greet the guests; everybody congratulated him that he became a CA. Some of the guests advised him to study further to be a bigger success. Ashok da smiled, did namaskar and bowed his head. His father, Manikchand Khetawat, also came with folded hands and stopped in front of everyone and requested them to give more blessings to his sons and eat well. Everybody, while munching the bhujia and savouring the rusgullas, assured that they had a lot of blessings for his sons and that the food was marvellous. Soon his other sons arrived. We could not make out who the groom was. They all dressed very nicely in long colourful kurtas, they all wore red and yellow tilak on their foreheads with a couple of tiny rice grains fixed on the tilaks and put glittering scarves around their necks. They all looked very handsome. They soon got busy to instruct the guys to serve us second helping of bhujia. My parents protested out of courtesy, but they had insisted that they must take more bhujia. They said the bhujia was straight from Bikaner. They even gave one additional rasgulla each to me and my brother. After some time they served tea in small stainless steel glasses which my father and my mother took and we waited for some other things to arrive. After having tea everybody got up so did our parents. We were little baffled, as we expected some serious food to come.
        As we returned home, Maa seemed not so happy. She said, "They could have served some rice instead. Now coming home, again I have to go for the drudgery of cooking the dinner again, bother!'
         Father tried to make her understand, 'It was a tea party, you were not supposed to expect a full dinner out there.'
          'Whatever, even bit of rice and dal would have been better instead of all those titbits.'
           'How can they offer rice? You can't treat your guests with just rice, dal and vegetables, can you? It's not easy to think of a proper menu for guests without meat and fish', explained my father.
         After we reached home mother went to the kitchen, collected the firewood from the verandah and lit up the hearth to prepare the dinner – rice, dal, fish and potato fry. Suddenly power went off, as usual. Father helped her by putting enough kerosene oil to lit the hurricane lamps. It got quite late by the time we finished eating. We were, in fact, woken up from bed to eat the food. Once the dinner was over, Maa had cleaned the kitchen floor and washed the utensils. By the time Maa came back from kitchen we were fast asleep. 
(It's a work of fiction. Any resemblance with any person, dead or alive, is coincidental.)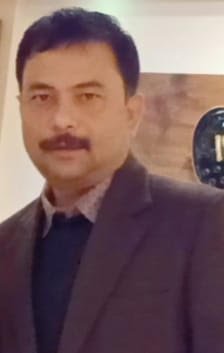 Jyotirmoy Prodhani
Professor, Dept of English
NEHU, Shillong