(Daonoh = Chicken, Hon = Rice flour)
This is a dish prepared by people of Dima Hasao district(North Cachar Hills,is one of the two Autonomous hill districts of the state of Assam ).And when it comes to food of Dima Hasao , sticky rice and rice flour in their cuisines are often prevalent or used . Judima ,a popular traditional brew, prepared from rice is consumed alongside this Daonoh Hon
INGREDIENTS 
*1 whole chicken cut into pieces 
*7 or 8 medium sized onions , sliced thinly 
*Ginger paste 3 tbsp
*Garlic paste 2 tbsp
*Green chillies 10 slit into halves
*1/2tsp turmeric 
*1 tsp turmeric roots/raw crushed (optional)
*Mustard oil 4 tbsp
*Salt to taste
*Rice flour 6 tbsp 
*Water 5 cups 
*Coriander leaves 1 /2 cup chopped fine
Marinate salt, turmeric, half of each ginger and garlic paste for 10 mins.
Heat oil. Brown the chicken pieces in medium heat. Remove and keep aside. In the same oil, add the onions, fry till golden brown. Add the remaining ginger  garlic paste and the green chillies. Fry gently with the browned onions. Add the chicken pieces and stir all the ingredients for few mins. Pour hot water into the chicken mix. Simmer and cook the chicken till it is done. I usually do not use the lid for this dish and do slow cook.
Mix rice flour with one and half cup of water. Pour slowly on to the cooked chicken. Stir well and let it cook for five more mins. Remove and leave to sit for 15 mins. Garnish with coriander leaves .
Points to be noted. 
The amount of rice flour depends on the consistency that you want. You have to be very careful as, the gravy thickens when it becomes cold. 
If you want  it more spicy, you can add chillies and chilli powder as well. 
I  use julienned ginger to the gravy in order (just before the chicken is removed from the fire)to make it spicy and hot. 
Serve this dish with boiled rice or sticky rice. And if Judima is served alongside, there is nothing like it.
This dish can also be cooked with pork.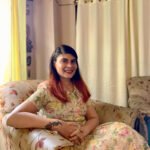 Recipe By Monmi Das: Known for her exquisite signature bakes for the last 25 years, Monmi Das is a culinary enterpreneur and proprietor of food boutique 'Yellow 29' that serves an exotic array of pan-Asian cuisine. Food apart, she lends her signature elan in handcrafted items. She also has ten years experience as a teacher and mentor.