The year was 2012, my firm was on the lookout for an office space as the old address had a parking problem. We were lucky to find a decent space near the banks of the famous Dighaliphukhuri pond. Our old widowed landlady had a sick teenager son and we were introduced to her caretaker Bijoy, who was supposedly her adopted son and lived with her.
Bijoy was in his late twenty's, thin, shabbily dressed and a lover of stray cats and dogs. The lane leading to our office was full of stray cats and dogs of all shapes and size and followed the master wherever he went. Bijoy offered his services as a helper and cleaner and we gladly accepted his services for a monthly salary. Our office was in safe hands as the landlady's adopted son was a sort of caretaker.
Month's past and we got to know Bijoy better after our daily interactions. Apparently, we learnt that he was left by his father as an eight year old at a neighbour's residence for good. Was it because of poverty or something else, we still wonder till this date. He stayed and worked at the neighbour's house and may have been ill-treated. He came in contact with our land lady, who took pity on him and decided to let him stay with her. He is still with her for the past 30 years or so.
Bijoy grew into a young adult and started looking for work. He had various anecdotes to tell us. He got a job at an old gentleman's house as a cook. On one occasion, the old gentleman bought a quarter kg of small fish and asked Bijoy to fry the same for lunch. Bijoy may have tasted one or two while frying and had packed a few small fried fish for his pet stray cats. At the dining table, the old gentleman called Bijoy and told him, he had counted twenty small fishes but there were sixteen odd fishes on his plate. Bijoy finally had to admit to his crime and was astonished to find out that the old gentleman had a sharp brain and was such a miser that he counted how many small tiny fishes were there in a quarter kg.
Bijoy did various other odd jobs of courier boy, office peon and he took to drinking spurious local liquor at a later stage. There were stories of him going out to these drinking den late afternoons. By late evening, he would get into a cycle rickshaw to come back home. He would be talking aloud in broken english to himself and the unnerving rickshaw puller. He stopped by just outside the lane leading to his home, asked the rickshaw puller to wait while he got the money to pay him. He would apparently forget on his walk back, go into his house and goes off to deep slumber. The poor rickshaw puller would wait and look around for Bijoy and go back disheartened. This happened always on a weekly basis.
Bijoy was very troubled during the update of National Register for Citizen in Assam because there was no formal adoption by our old landlady and he had no supporting documents to prove his citizenship. He had a fair idea that he was from central assam, maybe Silapathar area but was not sure of his legacy. He was frightened that the government would declare him a foreigner. He was in the meantime married with two sons. His wife had all papers for herself and her two sons.
One day, maybe 30 odd years later in Bijoy's life, he excitedly came to our office and with glee in his eyes told us that at last his father contacted him through some know acquaintances. He spoke to his father a couple of times and found out that his actual name was Bir Bahadur Chetri, son of Jung Bahadur Chetri of Silapathar. We were happy to find out that finally Bijoy found his legacy and was from a nepali origin settled in Assam.
Bijoy said to us that his father was well off and had lot of properties in central Assam and neighbouring state of Arunachal Pradesh. His father had invited him to come and stay permanently in one of his properties for good. This all happened about a year ago.
Till this day, Bijoy, aka, Bir Bahadur Chetri, is waiting for his father to come and meet him. He did not take the invite to visit his father first but wants his father to come and meet him face to face. There are a lot of question's in his mind as to why he was abandoned as a 8 year old, which only his father has answer's to. Till then, Bijoy is hopeful of his father's visit in the near future. For us, we sincerely hope that he finds peace with himself but till then Bir Bahadur Chetri is still the affiable and enigmatic Bijoy.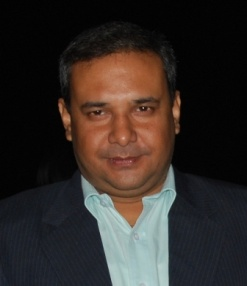 SIDDHARTHA BOROOAH is a builder and developer based in Guwahati. He studied  in St. Edmund's school , Shillong and graduated in Economics Honour from Elphinstone College, Mumbai, in the year 1994. He is the managing partner of SB REAL ESTATES AND LANDSCAPES, based in Guwahati. His passions include travelling, cinema and writing fiction.