Mr Saikia was feeling sad and irritated from early morning today. He was struggling to read the newspaper, sitting in the armchair at the front veranda, which was his morning habit for years, but he could not concentrate. His mind kept drifting back to yesterday   morning's incident. His wife, Gayatri, came out to give him a cup of tea. Normally he would have welcomed her with a big smile as for him reading the morning newspaper while sipping a steaming cup of tea was one of life's priceless pleasures. Today he did not feel all that enthusiastic though by habit he extended his hand to accept the cup of tea. He noticed her sad eyes, red from crying and a deep sense of sorrow engulfed his whole being. "We should not have got rid of Sabira. She served us faithfully for more than 20 years. Just one lapse and you asked her to leave. You don't even know for sure that she had done it.", her voice broke as she blurted out the words. She uttered the last line so sternly that Mr Saikia felt almost like a bully.
Sabira was their maid for ages. She came to their house at around the same time when Ritesh, their only son, was born. As Gayatri had some complications during delivery, Sabira's presence was a great help to manage the household. She worked hard and honestly. Over time, she became an indispensable part of the family and for Ritesh, she was like a foster mother as Sabira took care of him almost singlehandedly when he was just a baby, his mother being bed-ridden for the initial few months. All these years, there was never an occasion to find fault with Sabira. She ran the chores of the house diligently and efficiently. Her cooking was somewhat on the blandish side but it was perfect for the Saikias at their advanced age. So, no one had any complaints. In turn, Saikias heaped their love and affection in abundance on Sabira and her family. As Sabira's family was very poor, Gayatri always made sure that extra money was given to her on all festive occasions to provide for new clothes to her children. In fact, her son, Kamal and her daughter, Minu, were born after she came to work with Saikias and Saikias took care of their full hospital bills during her deliveries. Kamal who was elder was average in studies, but Minu was exceptionally brilliant. Ritesh was always at hand to help out in studies whenever they wanted to clear any doubts. When Ritesh got admission in Havard Business School for his MBA degree, there was a joyous mood pervading the whole family which included Sabira's. Ritesh took all of them out for a celebratory dinner and also gave Sabira a bonus.
"Where have you kept the keys of the Godrej Almirah?", Gayatri's irritated voice broke Mr Saikia's spell. Keeping the teacup carefully on the table, he got up slowly muttering, "let's look for it, normally Sabira keeps it in the dressing table drawer". He knew life would be difficult in Sabira's absence as she naturally assumed the role of a self-appointed caretaker after Ritesh left home for higher studies with tacit support from Gayatri. Mr Saikia quite easily located the bunch of keys in the dressing table. Looking at the keys neatly kept by Sabira in the drawer, Gayatri voiced her protest again, "you should not have fired Sabira yesterday merely on the basis of suspicion that she stole my gold-bracelet. She never took away even a small thing without taking my permission." Mr Saikia did not respond, just nodded thoughtfully. He ran through the events of yesterday morning in his mind like a kaleidoscope. Gayatri was to attend the 'juron' ceremony in their friendly neighbour's home whose daughter was getting married. So, she took out the bracelet and other ornaments from the wardrobe and kept those on the bed in the bedroom along with the 'muga mekhela-chadar' she was going to wear for the ceremony. After taking bath, when she returned to the bedroom for getting dressed, she found the bracelet missing and she raised hell. All of them, Mr Saikia, Gayatri and Sabira, searched every nook and corner of the bedroom, turned the contents in the wardrobe upside-down several times and even had gone through the bathroom with a fine tooth-comb. After about an hour of frenetic search, they reluctantly came to the conclusion that the bracelet was actually missing. However much Saikias wanted not to believe it, the inevitable suspicion fell on Sabira. Because at that time, Sabira and the sweeper were the only people other than Saikias who were present and the sweeper was never allowed to enter the bedroom. All through the day, Saikias mooted over the mystery of the missing bracelet. Gayatri was feeling down and miserable as besides loss of a valuable item, losing gold was considered to be a bad omen. She decided to give the 'juron' ceremony a go by. They considered all possible angles and options, but invariably they came back to the same conclusion that it was nobody but Sabira who could have taken the bracelet. Finally, in the evening Saikia confronted Sabira and asked her with deep sadness whether she had taken the bracelet by mistake. A deathly silence followed only to be interrupted by the soft sound of Gayatri's sobbing. After a long pause, Sabira blabbered something which, Mr Saikia thought, indicated a vehement denial. She started weeping audibly. Gayatri also joined in the crying that made the situation even more awkward. Mr Saikia quickly fled to the bedroom followed by a grieving Gayatri. They kept discussing the incident without reaching any amicable solution. Finally, as the Sun was dying in the distant horizon, Saikia made up his mind to face the reality and told Sabira not to come back to work from next day while handing over three months' salary so that she had enough breathing time to look for an alternate job. Sabira left without a word crying inconsolably. Gayatri did not come out of the bedroom taking refuse in her tears.
Mr Saikia forcibly brought his mind back to the present waking up to the fact that his wife had already collected the empty teacup from his hands. "Once you lose confidence on her, you should not keep her anymore for the sake of everyone's peace", he tried to reason with her. Gayatri replied, wrestling with her sorrows, "I know, but it's so difficult to come to terms with this. She is almost family. The faces of Kamal and Minu are haunting me. I couldn't sleep a wink last night worrying about them". Saikia fully empathised with her. He thought he could do very little to rectify the situation, given the circumstances. Yet he still felt like a Beethoven of cruelty.
Saikias had a perfunctory lunch in silence. They had neither the energy nor the inclination to engage in small talk. They withdrew to the bedroom to take an uneasy nap but none could really sleep. Experiencing the agony of his wife in equal measure, Mr Saikia kept debating in his mind through the afternoon whether he should call Sabira back. As the dusk was settling down and the cackling birds were on their way home, Saikia heard a hesitant knock on the front door. Bitten by a sense of premonition, he quickly opened the door. He saw Minu standing there with her gaze fixed on the floor. From the corner of his eyes, he noticed Gayatri coming forward anxiously with her eyes welling up. Minu took out the elusive gold-bracelet from her frock-pocket and raised it up as if challenging God. She spoke clearly in a measured tone, "Please take back this cursed bracelet which 'Aai' took from here to save my future. Now that I have returned it, would you keep me as your maid?" Before she could say anything more, Gayatri came from behind and hugged her tightly, both crying. After what looked like an eternity, Minu disengaged herself from the embrace of Gayatri and handed the bracelet over to Mr Saikia. Then at the cajoling of Gayatri, she shared her story slowly in between sobs, "Papa had a big fight with 'Aai' day before yesterday night. He wanted me to work as a maid to earn money to provide for admission money and college fees of Kamal-da. He said that otherwise he won't be able to pay for Kamal's education and that it was important for Kamal to study and get a job to secure our future. 'Aai' vehemently opposed this saying under no circumstances, she would allow me to work". Gayatri interjected anxiously, "But you are the one who is more brilliant…". Minu stared vacantly and continued her monologue, "It doesn't matter. In Papa's mind, it is quite clear that as he can afford education of only one child, it has to be Kamal as he is the male-child who would carry the torch forward for the family. My being more brilliant has no merit in his framework as a daughter is only meant to be sacrificed at the altar of child-marriage. Even as 'Aai' was getting beaten up, she continued to argue with Papa that she would never allow me to discontinue my studies. Papa only stopped beating 'Aai' when she screamed that she would arrange the required money next day for Kamal's admission and college fees." Her voice trailed off leaving the gloom playing havoc in the fast-gathering darkness outside.
Breaking the silence, Gayatri moaned, "But she could have confided in us about her predicament." Minu replied mechanically as if life had gone out of her voice, " 'Aai' is too proud to beg. Her mind was numbed with the unreasonableness of Papa's demand. She stole the bracelet to defeat Papa's evil purpose and the rest you know. I can't, for the life of me, allow her to suffer this ignominy and hence, I have come to return the bracelet with folded hands. Would you forgive her and keep me as your maid?" Gayatri could not hold herself anymore and shouted out firmly, "Minu, you will never work as maid anywhere." On the dimly-lit wall, a lizard crossed making clicking sounds as if in agreement.
That night when Saikia and Gayatri were walking back home after dropping Minu at her home, it was raining as if the angels were crying seeing how unreasonable fate could be to a poor family. Mr Saikia could not still escape from the images of Sabira's uncontrolled weeping when Gayatri told her that Saikias would bear all expenses of Kamal's and Minu's education from hereon and that she should come back to work from next morning.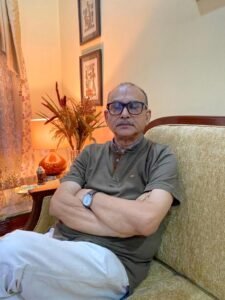 Dr Bhupati Das, formerly Managing Director of Numaligarh Refinery Ltd and subsequently also of Bharat Oman Refineries Ltd, a multinational company, Dr Das presently works as an independent consultant, coach and trainer. He had also served a tenure of two years as Emeritus Professor of Dibrugarh University. He is an acclaimed poet and a fiction writer and writes in English