All Over Assam Nobody Moved
Meanwhile, this 'revolution' kept on happening with frequent intervals. We soon realised that not only the students, the teachers were also into the ongoing andolan. And this is how time wore on. More importantly, to our utter satisfaction, school no longer remained the same. Classes began to get cancelled, so much so, as the climax of this happy disruption, even the annual examination got cancelled once. Some of the students, who used to get abnormal marks in mathematics, expressed their disappointment that the annual examinations would not be held and they feared that their ranking in the class would be affected if, as they apprehended so meanly, all the students were promoted en masse. We liked the idea that without the avoidable anxiety of examinations we would hop to the next class. But no such thing happened. None of us got compulsory promotion, instead all of us had to remain in the same class for one more year and thus the entire generation of Assam in that year remained wherever they were for one more year. It soon became famous as the 'andolan year' in which all over Assam nobody moved from one class to another. We did not find it as 'disastrous' and 'unfortunate' as some of our friends used to fret over. It was nice that there were no examinations, one full year we could freak round but in public we expressed how sad we were for having lost one full year. It soon became famous as the 'andolan' year, the year in which all over Assam nobody moved from one class to the other.
The most happening place in Golakganj became the junction where the road to the Block Development Office began from the NH 31, called the Block Morr. Everything important and interesting was happening there, all important decisions were taken there, all important information used to arrive there and all the important leaders used to gather there. There were Aswini da, Anchalik AASU President; Baneswar da, Anchalik AASU Vice President; Nagenda, Anchalik AASU General Secretary and so many other great leaders who were guiding Golakganj on to the path of revolution. It was not that everyday there would be revolution. There were gaps.
In one of those afternoons we gathered in front of the tiny thatched house, which became famous as AASU office. Nagenda, our popular and powerful leader, announced in the meeting that the next day, to our utter joy, we were supposed to 'boycott' the school which meant we were not going to school, instead we were going to go for a thing called 'Satyagraha'. Nagenda explained:
-"We are taking up a democratic path for this agitation; therefore we are going to take the path what our father of nation, the Mahatma Gandhi, had taught us. Satyagraha. We are not going to get diverted from the path of truth and non violence. Mahatma Gandhi is our ideal. We will follow the path of the Mahatma. Jai Hind, Jai Ai Asom".
We clapped. Encouraged, he continued:
-"Friends, we know how Mahatma Gandhi, Jawaharlal Nehru, Subhash Chandra Bose fought for the freedom movement to drive away the 'Bidexis' (foreigners), the Ingraaj. Now in the soft bosom of our mother Asom so many bidexis are moving around, therefore, in order to make our mother Asom free from the bidexis, we have plunged into this andolan without fear. Come what may, we will not stop until we make Axom 'bidexi mukto'.
We clapped and shouted, "Jai aaai Asom".
            Most of us were clueless as to what we were supposed to do as part of Satyagraha. Deba said,
-"I know what is Satyagraha. Once we are part of Satyagraha, we will not be allowed to eat food."
 Some other laughed at such a weird suggestion. Jaideep explained that as part of Satyagraha, from the next day on we were not going to tell a lie, we would only speak the truth as Mahatma Gandhi did when he wrote My Experiments with Truth. He in fact knew the names of great books because his father was a school teacher who taught Sanskrit.
Whatever it was, that was greatly satisfying because we were about to be part of the process to become Mahatma Gandhis ourselves. We felt so superior. But we were also thinking how would our telling the truth would make Asom free of foreigners? 
            Next day morning we gathered at the Block Mor. There was a small meeting in front of the Aasu office. Aswinida and Nagenda delivered speeches. Then we were instructed to begin our satyagraha. We were divided into several groups to sit in front of the government offices that included the office of the SDC, branches of State Bank of India and Pragjyotish Gaonlia Bank, office of the BDO etc. But the gathering was too large and there were dearth of venues. Then they decided to include some more government offices, so they made groups for the primary Health Centre, post office, Basic Training Centre (BTC), office of the Land Registrar and also the Land Customs office though there were only one officer and a peon in that office. Then somebody said there could not be any satyagraha in front of the hospital. After some deliberations they dropped the hospital idea from the list. Some of the suggestions came from the staff themselves who worked in those offices. Somehow they thought that if their offices were not included as Satyagraha venues that would be quite demeaning for the prestige and importance of that office itself.
            This was a different variety of andolan. It had its own charm. We sat in front of the offices with banners that boldly proclaimed, "SATYAGRAHA to drive away the bidexis from Assam". We were sitting there for the whole day and did not allow them to open the office. The branch manager of the SBI was piqued at the turn of the events. He moved towards the office gate. As we spotted him we began to shout slogans loudly:
-"Jai Ai Asom", "Ah oi Ah Olai Ah". (Long live Assam, Come out O fellows to join the march)
Such outbursts perturbed him. Yet he braved the torrid mood of the morning and advanced towards us. A middle aged, little stricken Bengali man wearing a blue full sleeve shirt, a half sweater with patterns in red, black and yellow, a loose baggy pant, leather strap Bata Quo Vadis sandal shoes over a pair of grey socks, clutching a small green hand bag where it was written in Hindi,  Zafrani Zarda. He was defiant in the beginning, and was somewhat adamant to argue with us. He was obstinate to go inside the office, as for us we would not allow him to go in. The more insistent was he, more determined we became to stop him from going in. By that time a considerable amount of audience arrived to witness the unfolding drama. We knew that the fellow in front would lose the game. We definitely outnumbered the Manager and his staff. Amidst this chaos Gafurda stood up on the verandah and without any prior warning started a passionate speech:
            -"Jai ai Asom,
– "Jai ai Asom". We followed his evocation by shouting the slogan together at the top of the pitch with the veins of our pharynx sticking out. Gafurda continued:
            – "Friends, for the sake of mother Asom we are ready to lay down our lives. What worth our lives have if we cannot free our mother land from the brutal shackles? We are ready to die, we are ready to lay down our lives, our chests are ever ready to receive bullets with smiling faces,  but we will not allow this office to open. We are here on the path of truth, we fear none. If at all they have to open the office they must do it over our dead bodies."
            This was too much. The air seized with an intense sense of emotion. We clapped and spontaneously began shouting slogans with robust vigour. It was just a matter of time for the Manager to make a meek retreat. Two police constables, who stood reclining against the support of their batons wedged on the ground, kept watching the proceedings while kneading a palm full of khaini with their right thumbs. We suspected that the policemen would start beating us; at least the bank manager had hoped that way as he kept looking at them. But the two police constables did not move an inch from the place where they were. The other employees of the bank tried to cool down their manager and persuaded him to leave the scene. They finally did. They went to a nearby tea stall and drank tea.
            The day came to an end without any further dramatic event. The offices wherever the AASU volunteers sat on protest remained closed. There was a tremendous sense of victory among all of us. It was a rare feeling that for the sake of our mother land we had won the first major battle.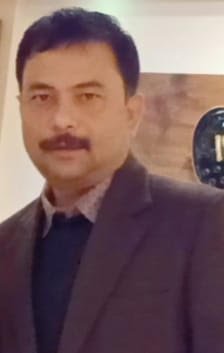 Jyotirmoy Prodhani
Professor, Dept of English
NEHU, Shillong