Indira Gandhi and Jyoti Basu
On that day most of the teachers were on the playground under the winter sun. With their hands in the back with rolled-up newspapers, they were scattered in the field in small groups and were engaged in grave talks. For the last few days, there have been too many things happening. From their talk, one could overhear references to some years. Bhatta sir, our Sanskrit teacher who came to Golakganj many years ago from Nalbari, animatedly argued, "It has to be 1951, it cannot be 1971." Ambunath Sarma sir supported him, "If you are really serious about solving the foreigner problem, it has to be from 1951, how can it be from 1971?"
'Actually, Indira Gandhi has a point,' responded Nripen sir, who was also a supporter of Congress and, as we heard, was in love with a teacher from the Bengali school. 'Since Bangladesh came into being on 16 December 1971, whoever came after that should be treated as a foreigner. Before that there was no Bangladesh so how can you find a Bangladeshi before that?'
                Golap sir, our mathematics teacher, supported him. "You cannot go back too far. In 1951 India was still in the process of becoming an actual country, just before that everybody was an Indian and abruptly, they became Hindustani and Pakistani. If you stick to 1951, it will be quite a chaos. Some of them have been here for so many years with the hope they would be safe in the new address, and now they will be in another crisis if they have to face deportation again."
                -'But should Assam be the only place to accept all of them? Assam has always been treated as dumping ground, why can't the other states accept and settle them in their states? Assam has been too generous to accept an endless number of immigrants since 1826, after the British came to Assam.' Bhatta sir was quite agitated.
                – 'Prime Minister Indira Gandhi has suggested she would take up this issue very seriously and find out who is a foreigner and who is not. She even proposed that if Assam did not want to bear the burden of additional people, other states should share the burden.' Nripen sir defended Indira Gandhi.
– 'No state is ready to take a single soul from Assam, but they are giving big lectures to Assam.' Ambu sir, who was our English teacher and also the reporter from Golakganj for the Assam Tribune and the Dainik Asom opened up an old newspaper and read loudly, 'West Bengal Chief Minister strongly reacted against Prime Minister Indira Gandhi's proposal to hold talks with the leader of Assam movement. He has categorically stated that Bengal would not accept a single migrant from Assam. He had expressed the view that there was a foreign hand behind the ongoing Assam movement.' He stopped and said, "See, this is what Jyoti Basu is doing, spreading misinformation and instigating the Bengalis in here in Assam.'
-'If Indira Gandhi wants it, nobody can stop her. She has understood the problem, I am sure she will find a way out.' Golap sir was a big supporter of Indira Gandhi.
All those talks were quite interesting for us, though we were yet to figure out which cut-off year would be the best year. If it was 1971, the movement would be solved in no time; if it was 1951, it would mean our movement was on and the school would remain mostly closed. Jaydeep informed us that our Prime Minister Indira Gandhi had invited the AASU leaders of Assam to have a talk in New Delhi. Jay Kumar Jain asked, 'Will the leaders go to New Delhi?' 'Of course, they will go to New Delhi and speak to the Prime Minister. It is like Mahatama Gandhi, Jawaharlal Nehru going to London to talk with the British Prime Minister. And you know what?' Manoj paused and said, 'Our AASU leaders will have to talk with our Prime Minister in English, no Assamese.'
-'I heard they are all students, will they be able to speak in English with our Prime Minister?'
-'They are students, yes, but very brilliant, they can speak English as fluently as Assamese.' Jaydeep also informed who were the leaders going to New Delhi. They were Prafulla Kumar Mahanta, Bhrigu Kumar Phukan, Bharat Narah, Lalit Rajkhowa, Mansingh Rongpi, Abu Naser and others. Some professors were also supposed to go with them. Jaydeep knew all those names by heart when most of us were familiar only with the names like Prafulla Mahanta, Bhrigu Kumar Phukan, Bharat Narah and lalit Rajkhowa.   
-'Once the talk is over, the movement will come to an end and all the foreigners will leave Assam', Diganta informed. 
-'What about some of the Bengali people of Golakganj? Most of them are from Bangladesh, will all of them go away?' Manish wondered.
 -'Yes, all of them. There are hundreds and thousands of them in Assam, they will have to leave Assam.'
-'Where will they go? Bangladesh? What if they are not accepted by Bangladesh, or they themselves fear going back to Bangladesh again?'
-'They can go to some other state of India and get settled there. Assam has the highest number of such foreigners; they are the majority in many districts of Assam now. In no other state, foreigners are the majority. How can Assam accept that?'
We were fully into the movement, yet several things were quite complicated. When I returned from school, I was thinking of the Choudhary family, the owner of the Royal Fancy Store. What would happen to them? Will kakima have to go back to Bangladesh leaving behind her husband? To the village where they had their big house, the pond with the sweetest water, and the car? What would happen to Brishti? Will she also leave Golakganj with her mother? As the thought crossed my mind, I felt a strange pain. Acute and unnamed.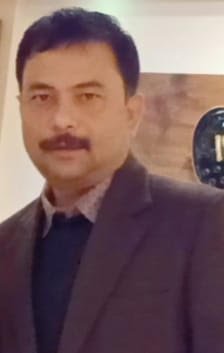 Jyotirmoy Prodhani
Professor, Dept of English
NEHU, Shillong