Grasshopper Chronicle Part II
Misled by the Clever Crow
The Assam andolan began again. This time it was 48-hour Assam Bandh, that is, everything would remain closed for two consecutive days, nothing would be open— shops would be closed, buses would not ply, offices would be shut and more importantly, there would not be any school during the bandh. Sankar asked, 'Nothing will happen for the next two days?' Like a real knave, he asked, 'But what for?'
Manoj was pretty pissed off at such ignoble queries. He replied, 'Don't you know? It's for our motherland, to make Assam free of foreigners. In fact, there should have been at least 100 hours Assam bandh. For the sake of our motherland, we can sacrifice anything and everything.' He soon found many supporters.  
Diganta and Jaideep expressed a lot of regrets that the school would remain closed for such a long time. Diganta said to Golap sir, our mathematics teacher, 'Sir since the school will remain closed for so many days, you can give us some additional homework.'   Sir was so happy to hear such a proposal from a student. 'See, this is the sign of a good student, he does not want to waste time just like that. But I am sure many of you are planning to loiter around like cows without halters' 
Encouraged at Diganta's queer proposal, sir gave quite a number of sums as additional homework, which meant such a rare occasion of life, 48 hour Assam bandh, was going to become almost meaningless for us.
***
 Out of sheer curiosity, I woke up early in the morning and at around 7 am went to the main road, most of the shops were closed apart from some vegetable sellers and Krishna Sha's tea stall where he would sell hot puris, sabji and tea. There was quite a gathering, people were taking tea and puri-sabji as if that was the rarest of experience to have something hot early in the morning when everything was supposed to be closed for two straight days. Meanwhile, the AASU volunteers came out to enforce total closure of everything. Binay da, Gopal da, Bablu da, Bapi da, Biren da, Pulak da and so many of the great leaders were on the street. One of them said to Krishna Sha:
'Krishna, don't keep open the shop for the whole day, else others would also start opening their shops.'
He replied, 'See, like the post office from where you need to send telegrams on an emergency, like hospitals where people may have to go anytime to save a life, my tea stall also fall under the same category. You ensure closure of all other shops but not mine one. Imagine if I don't open my shop and cook food, some people might even die out of hunger, you see.' He offered them tea, but they were too busy to look around whether the bandh was duly observed by the shopkeepers or not. All the big Marwari cloth stores were closed. Jay Kumar's cloth store had a tiny plank of the shop door ajar, that was because they had their house behind the shop. A number of women from the family wearing colourful dresses were standing at the door watching the near empty road. They were hardly seen outside. Only on occasions with their faces covered till their noses with ghunghat would come out with well-decorated thalis with dry fruits and other attractive things covered with gold-laced netted cloths to offer puja in the Hanuman temple in the bazar. But that day it was a different outing. Looking at some unexpected audience, the AASU leaders got encouraged and began to monitor the shops with new vigour. It was a rare sense of victory that the bandh was total. The whole market was closed, including the tea shops. The vegetable vendors came early morning and set up their makeshift stalls a little away from the market. The farmers who brought fresh vegetables from their fields got their stuff sold jolly quickly.
In the evening it was eerie as the roads were almost empty apart from some shadows gathering in the odd corners like moving ghosts. Some of the tea stalls did a little bit of tea service by setting up kerosene stoves outside their closed shops. People gathered around those stalls to sip tea and talk about the bandh. The same bandh would continue the next day too. On the first day of the bandh practically everything was closed and nothing happened. And that was an anti-climax of sorts. Such a big bandh but no incident to make it a bit exciting.
Next day, people did not expect much. Morning began as usual with most of the shops closed. However, around 11 am the information was doing the rounds that some of the shops inside the main market started opening their shops defying the call for the Assam bandh. As they opened the shops, they even shouted slogans against the movement. Some of them even pasted a poster of Jyoti Basu who was the Chief Minister of Bengal and who said many bad things against this great andolan. As the news reached the AASU leaders they marched towards the bazar shouting slogans like 'Jai Ai Asom', 'Aah oi Aah olai aah', 'Oi bedexi husiar'.
As the procession reached the bazar something absolutely unexpected happened. A sizeable mob came out with lathis, sharp daos, iron rods and other such odd weapons and jumped on the AASU boys. Taken aback by this surprise attack, the unprepared AASU boys began to defend themselves, as they were flogged and thrashed left and right. One such blow with an iron rod hit Bapi da's head, he fell down on the ground. Nearby, Gopal Biswas was lying in a pool of blood. Gafur da was badly hit by a thick wooden beam. Many of them were bleeding by then. It was sheer chaos. Two of them were lying motionless. Even the attackers did not anticipate this. Soon the attackers began to flee the scene apprehending some bigger trouble.
All the wounded volunteers were brought to the hospitals on hand pull carts. A huge crowd gathered in the hospital. Three of them were very seriously injured. Doctors at the Golakganj hospital immediately referred them to Dhubri Civil Hospital. As they were put in the hospital jeep, everybody thought they would never come back alive.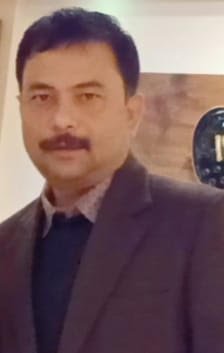 Jyotirmoy Prodhani
Professor, Dept of English
NEHU, Shillong