We Came, We Saw, We Survived!!
We came, we saw, we survived!!
The day was delightful for us as we felt like celebrities when we left for the trek from Namche to Deboche; we were being filmed by a German-based crew. They were making a documentary movie based on Sherpa culture of Nepal and Jamling sir was one of their main attractions whom they bumped into suddenly ,the day before , on his natal day. I guess you all know who Jamling sir is, the famous son of "the tiger of the snow" Tenzing Norgay. They filmed us from the beginning of the trek and finally bid us adieu promising to meet again at Mt. Everest base camp. We started happily taking few breaks, the elevation was high and we had small problems with the breathing. We crossed some breathtaking view points along with a suspension bridge with lots of yaks in front of us ,but eventually reached the rest point in Khumjung ,where we had lunch. But through out the way we experienced snowfall and later it was raining and foggy. 10 of us with our sir were waiting inside the "Sherpa hut" for the lunch & suddenly the place started to shake. The shake was of a long duration and was not about to stop. We had nowhere to run as we were in the banks of Inja khola (river in Nepalese), surrounded by mountains. We rushed out of the hut. It was sheer luck that rocks and boulders in the surrounding mountains didn't come down. In a matter of few seconds, the nearby hut was in rumbles and after a pause, the wall of our hut fell down as well. All the girls were numb with shock. I was wondering that maybe the earthquake was in the mountains so the seismic disturbance was felt of higher intensity & besides I didn't mind the rubbles as it was made of stone and clay with a wooden roof, so it would definitely come down. We got inside to have our lunch. It was amazing how the owner of the shop reacted calmly & still served us the tasty lunch. We relished the lunch, and one of our fellow mates commented: "earthquake best serve with lunch". We had rice, dal, veggies and a nice pickle. I really cherished the veggies; it was so fresh and so tasty. We were about done when there was another shake. This time the Nepalese people were really scared & they started praying to the mountains goodness. This time it was strong. Our sir tried calling from his satellite phone, but it didn't work out. As we were out in the mountains, we were all astonished, suddenly the earthquake happened, nobody knew the intensity and where the epicentre was, but we all felt it and knew that it was really bad. Along with us and Sir, we had along with us 4 Sherpas and 4 porters. These 4 porters were far ahead of us with our luggage. Sir gave us a green signal and we proceeded for our trek towards Deboche. We all girls were working for today's trek as we would pass the famous Tengboche Monastery en route Debouche where Edmund Hillary and Tenzing Norgay offered prayers & took blessings from the high lama while going to summit the Unknown in 1953. We have heard that the prayers that are chanted there are so powerful that one gets mesmerized by it. They say that Everest beer is also offered there.
While on the trek we met fellow travellers with whom we exchanged information regarding the quake & being clueless about what was going on. We pass through a beautiful forest full of rhododendrons peeping from here and there. Our sir told us to keep close while walking and to be alert; if we sense a rock fall we should bend down. We saw some of the cracks in the pathway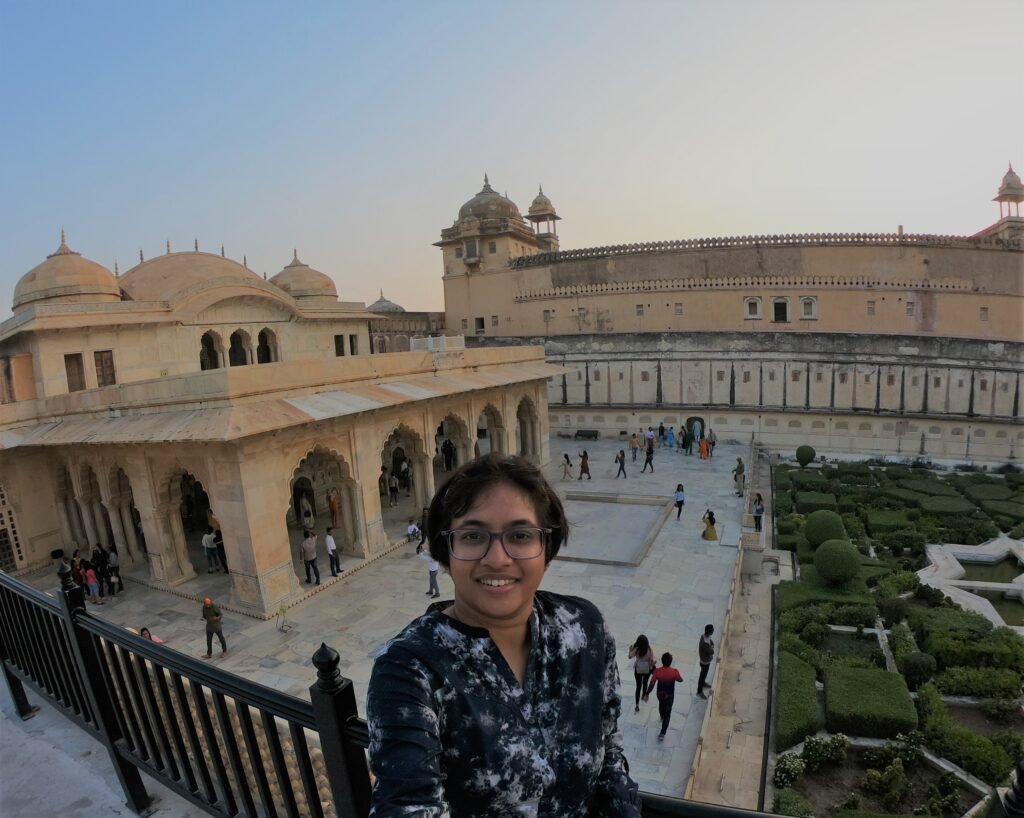 & finally at one point sir's satellite phone got connected and we were informed that the epicentre was in between Kathmandu & Pokran with a 7.9 Richter scale.
As we reached the Tengboche Monastery, it was already closed. We examined the damages over there and once more we felt two aftershocks. The structures there were all loosely built with stones and clay is laid over it. We tried out our phone connections, I attempted to contact my parents, but it was not reachable. We sensed the seriousness of the earthquake only after reaching Tengboche. The upper parts of the Monastery were visibly damaged. There were more structures in and around the monastery which were also badly damaged. Our next destination which was 10mins down in the valley near the river was also damaged. So sir took the decision that we will stay here tonight as it was the safest place as of now. We would get the information regarding whether to move ahead or not from the trekkers coming from the base camp. We proceeded to check for lodges there. In one lodge we found the there were boulders on the bed and later we decided on a lodge made of plywood, as it was more dependable. During that time, the 1st and foremost priority was our safety. It was in the dining hall of the lodge where we received information regarding the earthquake, as here the trekkers came for rest after trekking from base camp and other nearby regions. These people, whom we met, had first hand experience of the earthquake. In the altitude where we were in, we didn't have access to television nor proper phone connection, just the satellite phone and the passing people. We heard that Lukla, Namche, Pheriche were thoroughly damaged and there was an avalanche in the base camp. We were given 24 to 48 hours to be alert.
Finally, we girls went outside to search for network and call our respective families. It was going to be dark & finding a network in -5 degrees Celsius was a struggle and above it, there was snowfall. Finally, we got the line and told the parents that we were safe. My father was relaxed after hearing my voice, as on the television, the scenes that were depicted were horrible, and about which we had no idea about.
When we came back to our lodge we got to know that one of our Sherpa Dzonbo's houses in Thame was destroyed and he had to leave us and get back home. We girls collected some money and gave him for his aid. At first, he hesitated to take it, but we insisted. Language was the barrier for us and the Sherpas. They were learning English. Angputti was one of the intelligent among them as she could speak little English and little Hindi. Mingma was the cute one. Mingma and Aungputti were cousins. Bikas was almost fluent in Hindi in comparison with the others. Apart from the Sherpas being simple, honest & hardworking, they are selfless and very sweet & definitely the unsung heroes.
Today we realized the significance of what sir told us while we were boarding the flight from Katmandu to Lukla (the place from where we started our trek).He said "throw away your itinerary as nothing here happens by plan". I think the same goes for life too.
That night after dinner and chatting among ourselves, we were about to sleep when another earthquake came and we rushed outside. Our sir already told us to pack the essentials in our backpack. So that if we fall asleep and earthquake comes then we get the backpack and run.
The next morning the weather was little clear & the whole areas was covered with snow, the clouds put up its curtain little by little and we saw patches of the snow-clad mountain literally face to face with us. The mountains were so very near to us and they were so huge, but we girls only had one thing on mind that we desperately wanted to go to Everest Base Camp (EBC). Our next stop was Dingboche;as far as we knew there was not much damage in Dingboche, only some trails leading there had been damaged, but still people were going forward. It was one and only chance for us and as it was getting delayed we were losing hope. But we still hoped for the best. Hoped that something good was about to be.
We 10 girls were selected from "Fulfill your Everest Contest" (an extension of the Star Channel's show "Everest" produced by filmmaker Ashutosh Gowariker) sponsored by Star Plus Channel, Fair & Lovely (FAL) Foundation & Hindustan Unilever associated with Mercury Himalaya Explorations (MHE) among 7,500 applicants from all across India in 3 levels of selection procedure & our prize was to the Base Camp of the World's highest Mountain's with "The" Jambling Tenzing Norgay. It was to commemorate 50 years of the Indian team that summit Mt. Everest in 1965.
Tengboche has a huge open space and people who were coming from the base camp and nearby areas were putting up their tents for the night, we heard that 1500 people died in Kathmandu(KTM) , 18 dead & 6 missing in the base camp , foreigners were running back home , the base camp was declared closed for 4 days, in Gorakshep lodges(the last trek stop before the base camp) were damaged and in the meantime we witnessed helicopters making rescue service to and fro from base camp literally every half an hour & later got to know that the trail to Dingboche was totally damaged. We met injured trekkers from Pune who saw the avalanche with their naked eyes & a Sherpa who ran all the way from Gorakshep to Tengboche told us their experience & how frightened they were. We girls had one idea that if foreigners were rushing back then we have more places to stay in the forward trek. But again at 12.52pm, another earthquake struck and in front of our eyes, the remaining monastery collapsed with some other structures. Death tolls kept on increasing and 72 hours alert was given. One of our Sherpa Mingma 's home was also damaged, so Mingma left early morning and Aungputti stayed with us. We sensed the tension in their face. We all knew that EBC is not going to happen this time but still kept our fingers crossed & finally Jamling Sir came and gave the final judgment. It is always as it does "only when the mountain calls, you can go ."
All of us were devastated and broken down because every one of us sacrificed something or the other just to be here, but the best part was that we were safe.EBC was not a dream for us literally, it came by chance and the passion wouldn't have grown much if we would easily get in there. But the earthquake made us realize otherwise. For me, Mount Everest was a dream but after doing my BMC, from HMI, Darjeeling, I knew that talking about Mt. Everest and conquering it was two very different/difficult things, but this opportunity was a gem for me, a "god-gifted" I must say.
After having a sad & quiet dinner, we were surprised to meet Peter Hillary (Edmund Hillary's son) who came in our lodge searching for our sir and his friend. We heard that he was on a trek with his friends, it was a King's College Reunion Trek (60+age group). They were headed for base camp but had to return from Gorakshep because of the earthquake. We chatted and he invited us to their place nearby. We went there after our dinner, had a good time and finally bid goodbye with a final aftershock later. We were all fed up of the earthquakes.
The following morning we heard bad news, one of Peter's fellow trek mates whom we came across last night, had a cardiac arrest early morning and was announced dead. The whole atmosphere was full of grief and we went to give condolence. Afterwards, in the evening, a black helicopter came to take the body. It was really sad. The weather was clear today with some sunshine and we managed to see Mount Everest, Lhotse, Nuptse & Ama Dablam.
For the next day the plan was placed, the morning we will reach Syanboche via Khumjung village and we will be evacuated by helicopter to KTM, but after that, no such plans as in KTM hotels are not taking visitors. We should either try to get plane tickets for Delhi or reach Delhi by road crossing the Nepal border.But the question was how was the condition of the road?
Next morning at 4.30am we started our trek to Helipad destination Syanboche and reach there on time, on the way we witnessed the disaster caused by the earthquake, villages after villages were damaged. It was heart-wrenching to see how Mother Nature could show her anger among its most simple and honest people on Earth. We finally reached the destination and went inside the lodge to get fresh and some hot Wai Wai .In the meantime we waited for our Helicopter .We heard the Indian Embassy was worried for the 10 Indian girls stranded in Nepal, we were already in papers & MHE was trying for our evacuation ASAP, besides we had done our homework and we had our travel insurance. You never know when some things come out to be handy. But the worst turnout was, because of the bad weather the Helicopter couldn't land .So it was scheduled for the next morning at 6am. In the evening we had our first encounter with the television since 19th April and we saw the realities, the dreadful avalanche in Base camp and how the houses in KTM fell just like that, the International Airport was a mess, whether we will get a ticket to Delhi or not was a doubt, now I can realize why my parents were worried so much. These disturbing images took the smile from our faces and we were desperate to go home, no doubt that we were equally sad as we would miss all of us as we shared a collective dream and was a collective survivor of the natural disaster but we all knew that "we will go back strong".
The next day the weather was cloudy and we were waiting in the open space with some other foreigners for our rescue helicopter. Finally at one precious moment it found its way through the clouds and our savior the big Russian Mi-17 Chopper landed. We sensed a kind of relief .At that very moment something very special happened .The porters with whom we haven't interacted in the long trek as they were always ahead of us in the trek honored us by giving Khatas (the Tibetans scarf).It was an emotional moment for us andtears rolled down our cheeks. Later we bid goodbye to those porters, Aungputti , who stayed with us till the end, even if her home was damaged and Bikas .Finally we landed in KTM & the press was waiting for us. In the airport we came across many foreign planes .We saw our Indian Air Force's huge helicopters and plane in the Tribhuvan International Airport .It felt as if someone from home was waiting for us. They contacted our Sir & gave the airplane number but something went wrong, finally Sir with his contacts managed to get us 10 air tickets of Air India. It was very hard moment for us to leave Sir, it felt something as if "the end was abrupt .I didn't think that this would end like this .ABRUPTLY!"But Sir was like a God sent, if we weren't under his guidance, maybe like the other passengers we would have been stranded here for days. We could see these days Sir was only thinking about our safe dispersal to Delhi. At the time when the International Airport turned into a railway station, no hotels accepting travelers and people putting up in tents and sleeping outside the Airport, Sir managed to get the earliest possible tickets, even though he had a family in Darjeeling & property in Nepal that were damaged, butche kept us as hisfirst priority.
With heavy hearts and tearful eyes we bid goodbye to Sir. After much delay as there was traffic in the air, we reached Delhi. We met with the sponsors, made a toast of champagne for our safe coming and the very next day I had my flight back home to Guwahati. It was a very difficult moment for us in the Delhi airport as we were bidding goodbye to each other. Not knowing that will we meet again, but will surely miss this. We were strangers at first but became close as sisters at the end of the journey .Now I was all by myself on the flight to Ghy. I had mixed feelings, I literally didn't know what to feel about, a kind of confusion stirred in my mind, a dream was half-fulfilled, met so many beautiful friends, happy to come home, but in my heart there was still pain for the people of Nepal. Because it was the Nepalese people who suffered the most in the earthquake. Their homes were gone in seconds, districts were flattened in minutes but on the other hand, I came back, I survived with an experience of a lifetime that I will never forget. My landing was at 10 am but my father was waiting for me in the Airport with a bouquet of flowers since 8am.
I asked him "why did you arrive so early?"
He hugged me and said "become a parent then you will know!"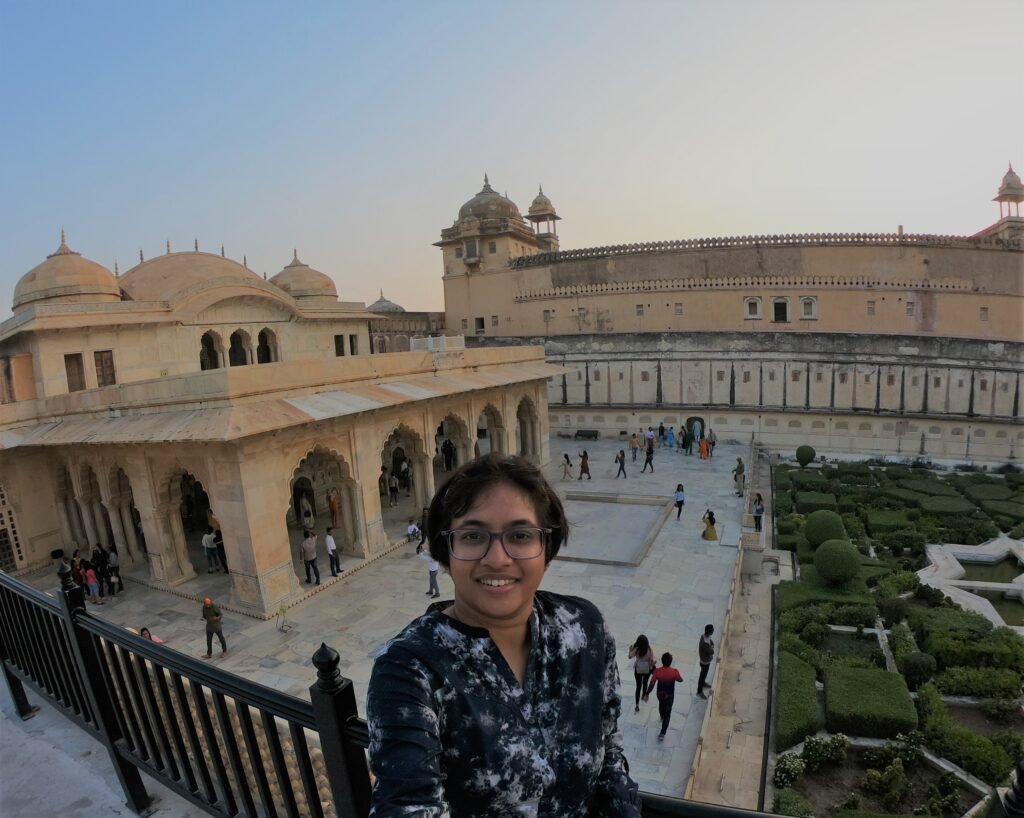 Moramee Das
A survivor from Nepal earthquake
All Women Indian Team Member to Everest Base Camp
(One of Jamling's Angels)