BASIC RUNNING TECHNIQUES FOR BEGINNERS
BASIC RUNNING TECHNIQUES FOR BEGINNERS
Running is one of the best exercises, but lots of beginners quit even before they have started or have just begun. They find it very hard. Running is a very good form of cardio for all types of people . It helps them get fit but with any new sport , a few inputs incorporated will help beginners start and make the difference.
They begin to enjoy .
Start small : work on keeping the stride length short .This keeps your legs and feet under your body.Quicker and shorter steps decrease the risk of injury and also cosume lesser energy. You can count your strides by counting everytime your either foot strikes the ground in one minute and multiply the number by 2 to get the strides per minute .
Focus on your breath: Try exhaling every four steps as you've found a decent easy pace. Exhale loudly as if you are blowing out something .These constant exhales create a regular and steady supply of oxygen to your lungs and muscles and keep you from out of breath. Focus on the exhaling as the inhaling part takes place naturally
Add walking : Including some interval walks every 4-5 minutes of your run helps in getting back your breadth and also improves the quality of the run. To begin with you could run 2 minutes walk 1 minute for the first few times and then slowly increase the running times and decrease the walk breaks. Remember there is no harm in walking in between the runs. A lot of experienced runners do the same.
Run tall: Running tall with a straight aligned body will help in breathing better and staying stronger .
Store energy : It really helps staying straight and moving in an aligned motion. There is no point swaying sideways as it does not help to move forward, instead a lot of energy is wasted. Move forward, keeping elbows bent with arms swinging at waist height .Save more energy by keeping your hands and shoulders relaxed .
10% Rule; Increase the distances or the time of runs by 10% every 10 days or even a fortnight. You need to let the body adapt to this new form of exercise.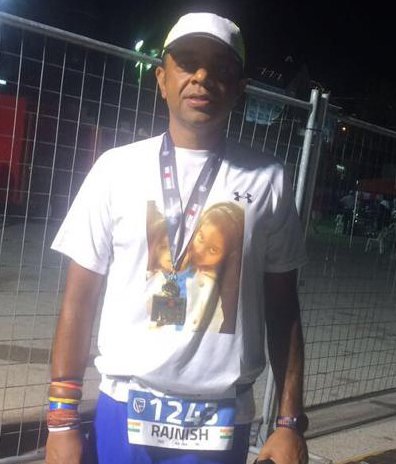 Rajnish Goswami, obese till 2015, successfully completed multiple Marathons and Ironman half distance and full distance races. He is a fitness enthusiast and an avid reader of sports science