Fashion Unlimited With The Mekhela Saador And More
Fashion Unlimited With The Mekhela Saador And More…
A Fashion statement varies from one person to another. Everyone has their own style and identity. People can freely follow and wear fashion the way they want. For me Fashion means wearing anything COMFORTABLY and CONFIDENTLY.
I have warm skin tone and I've often heard it said that not-so fair under toned women should avoid bright colors be it for makeup or for clothing items. As long as you feel good about yourself, nothing else matters. Feel free to wear any color you want and whichever way you want.
I know you have seen most of the people wearing dark colors during the winter days, but hey! Colors are never a bad idea. It makes our outfit look more catchy and vibrant. Personally, I prefer bright happy colors, coz that's how I want to be BRIGHT and HAPPY always. Your body is a beautiful canvas, wrap yourself in amazing colors. Even though I run out of clothes, I shall never run out of ideas. So without spoiling the original work of the mekhela saador (Mising ege gaasor), we can re-wear our traditional wear in so many different ways. The use should not be LIMITED as this clothing piece is so versatile and you can style it in various ways.
Gone are the days when Fashion was limited to certain type of people with sharp facial features. Even though I am on the healthier side with a big forehead and very light eyebrows, I still feel I am photograph-able. Earlier, I was really conscious about my forehead, so I used to cover it with hair bangs all the time. Maybe this consciousness was built up because of the various ads that showed models/people with only proportionate foreheads. But now, I no longer feel less of myself. I thank my family and friends for always loving me the way I am.
Break free from all the fashion stereotypes as I feel every one of us is imperfectly perfect. You are amazing just the way you are, don't let anything stop you from doing what you love. Keeping the present pandemic in mind, the first three looks are clicked on self portrait mode. All you need is a phone and a space to hold the camera. Click click click as much as you can. Why be dependent on someone, when you can be your own hero! The Covid-19 shouldn't stop you from clicking wonderful pictures.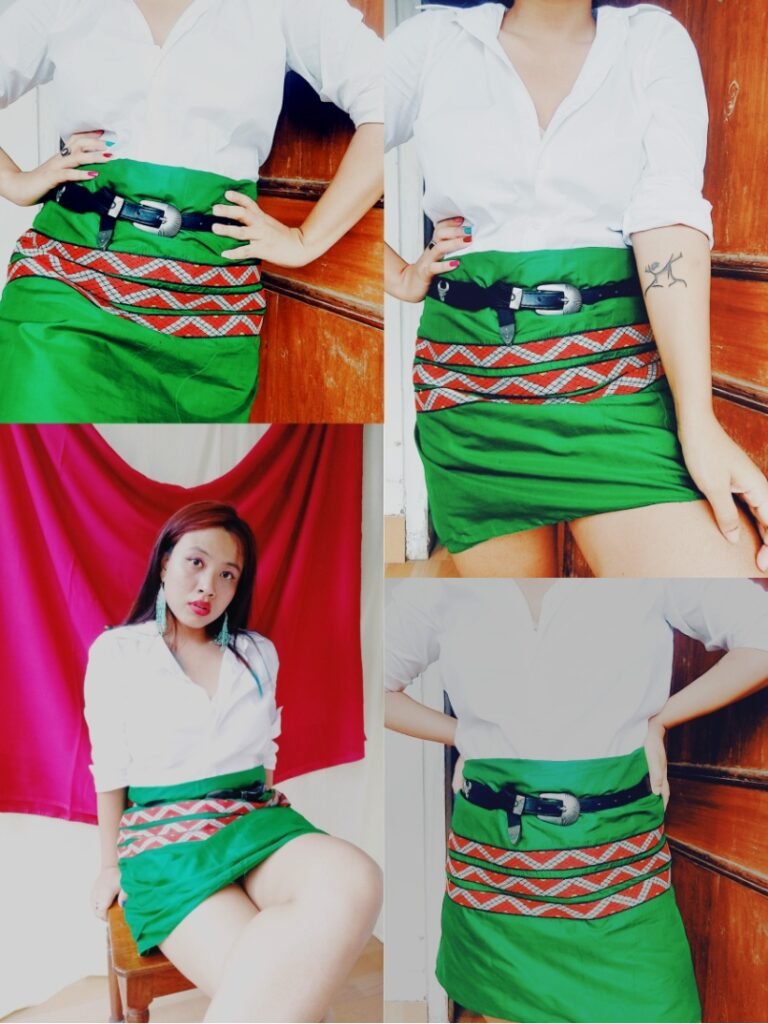 LOOK 1: DRESSY CHIC Parrot Green Saador Skirt with plain white shirt.
For the second look, this orange top was stitched out of a blouse piece of traditional Mising motifs which was lying unused. I usually wear tops or shirts with my traditional wear whether it be a gorgeous saree or an exotic mekhela saador. So, I thought of designing the blouse piece and had it stitched by a nearby local tailor. I am so happy with the result, it looks great. So, if you have pieces lying at your home re-use or re-design the cloth. Below is the image where I have paired the top with a pair of ripped jeans.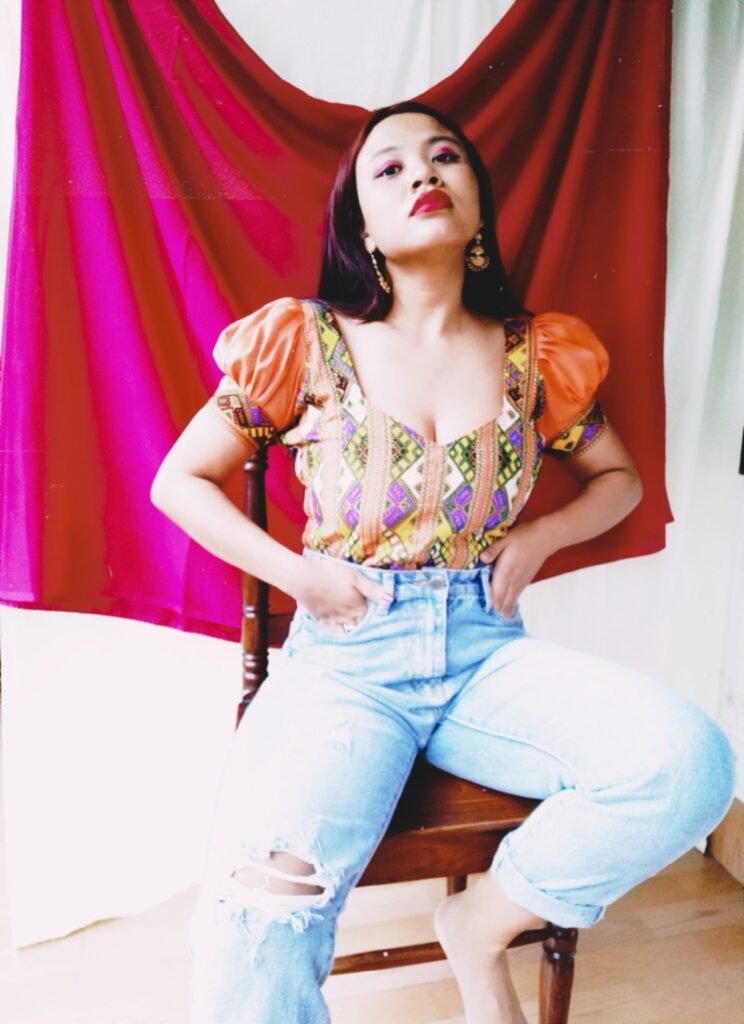 Look 2: CASUAL CHIC Wearing a Mising motif top with a pair of ripped jeans
The third look. As autumn is approaching, the nights will begin to get cooler. Even though the temperature starts falling, your style statement shouldn't. I am wearing the gaasor like a bodycon skirt and the look is very easy to get. You just need to wrap the gaasor around your waist. Voila, you have a brand new skirt for your wardrobe! Get some colors for your office life too. You can wear this skirt with a shirt and blazer. The material of the gaasor is really warm, so you needn't have to worry about catching a cold. The look is perfect for a formal gathering or even an office meeting.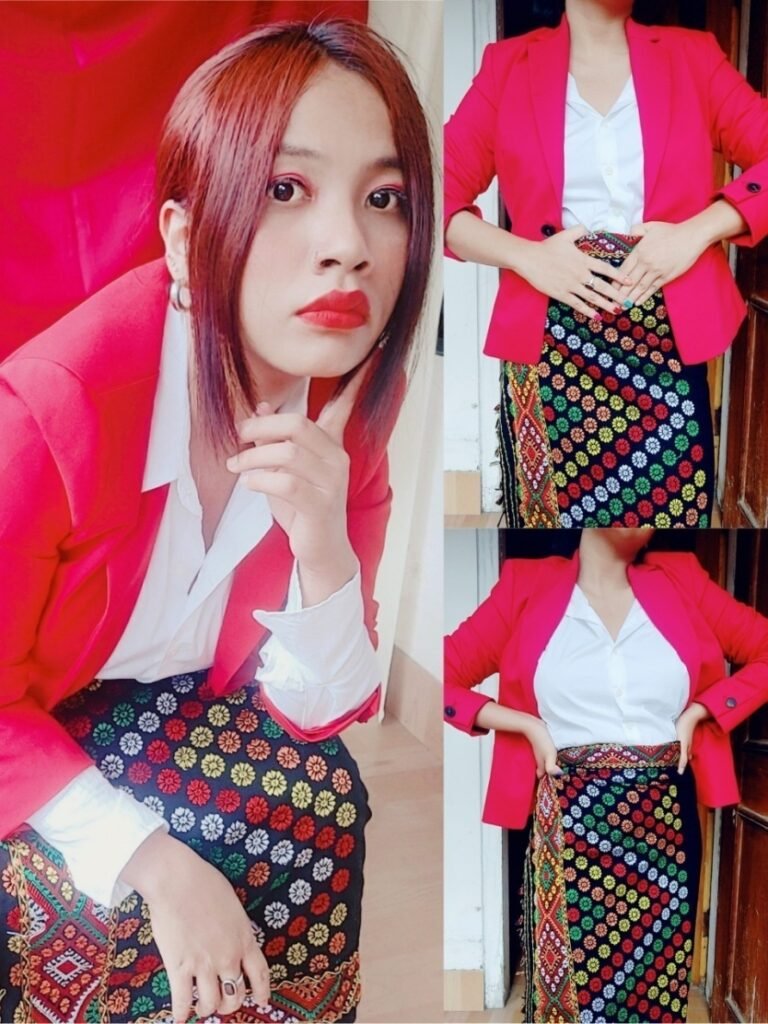 Look 3: BOSS CHIC Saador Skirt with shirt and blazer.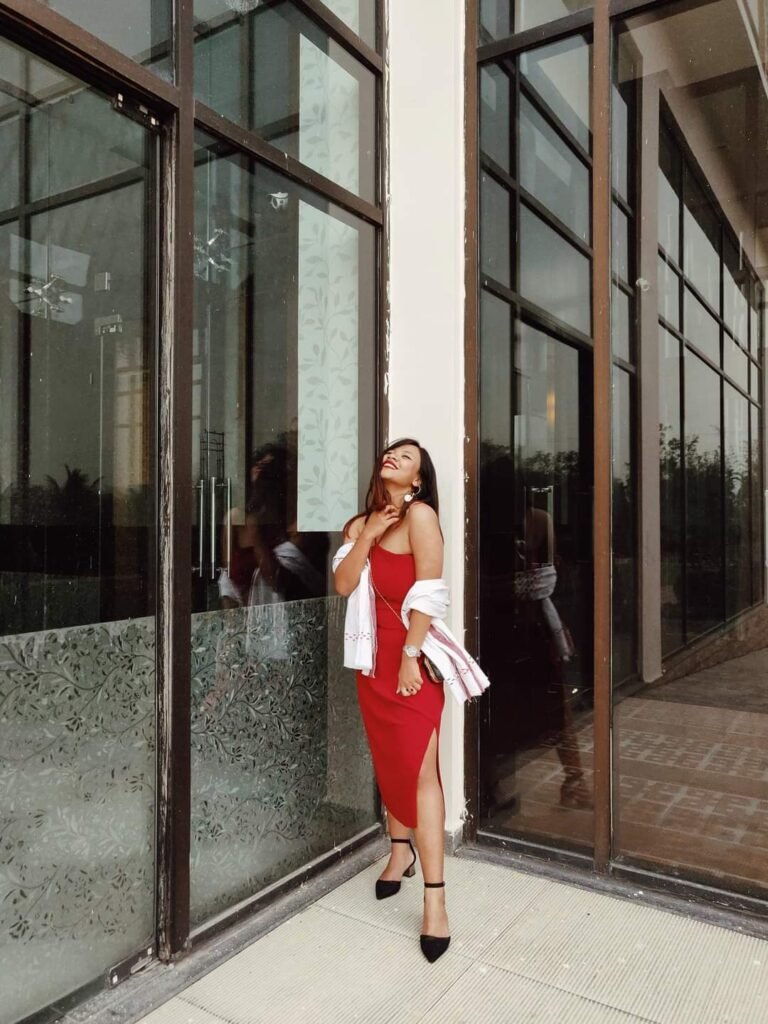 Look 4: PARTY CHIC Halter Neck dress with Gero Shawl.
For the fourth look, I wore a red halter neck dress with a GERO for my birthday last year. The Gero is our traditional shawl worn while performing the very favourite Gumraag (dance) during Ali-Aye-Ligang, the Spring festival of the Mising Tribe of Assam. Also, Gero is a part of a bride's outfit, traditionally gifted by her mother on this auspicious day.
When you aren't comfortable with sleeveless outfits, just wrap the GERO around your arms. We want to look stylish but comfort is also important.
Gero: The Traditional Shawl.
Last but not the least, my most favorite Semi western outfit will always be pairing my traditional saador with a leather jacket and boots. As I have been wearing this style for quite some time now, hence added an old picture! This look is perfect for all occasion, from a casual gathering to a rock concert.
Why buy a new outfit, when you can re-wear your traditional saador in so many different ways!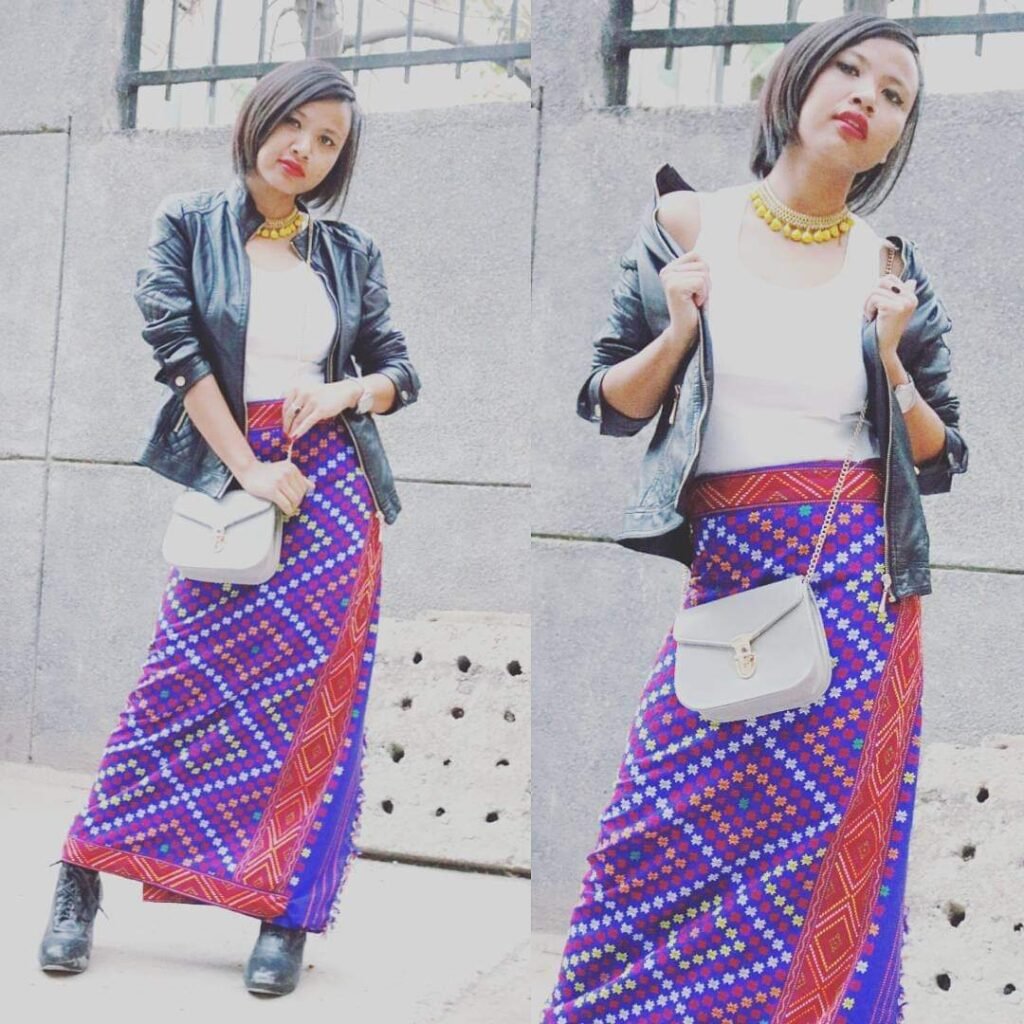 Look 5: ROCK CHIC Saador with Biker Jacket and Boots.
Passionate Traveler | Committed Optimistic | Sensible Foodie
Komal Doley is currently working for a Delhi based Digital Agency as a Social Media Executive.