My grandmother is one of the most talented bakers I've come across. When she was 24, she opened her own bakery in Shillong. Since then, she has continued to woo the entire city with her consistent and spotless cakes. In the 1980s, she began experimenting with cheesecakes. She used to make it with cottage cheese as cream cheese was not readily available back then. She would finely grind the cheese and add gelatine to set it. Her fresh mango cheesecake has been the most adored one. 
After a lot of burning, over-baking, under-baking, and shrinking, I finally put together a recipe of a perfect New York Cheesecake.
You could prepare the cream cheese at home by using this simple recipe
Heat 2 litres of full-fat milk
Add 2 teaspoons of vinegar or lemon juice 
After it curdles, switch off the flame 
Take a muslin cloth and separate the liquid from the curdled milk
Let it cool
In a small grinder, grind the curdled residue 
You can add some of the liquid to get a perfect consistency
Your cream cheese is ready!
To bake the New York Cheesecake, you need-
15-20 pieces of Marie biscuit
300 grams of cream cheese
1 cup ground sugar
2 eggs
1 teaspoon cornflour
1 teaspoon lemon juice
4 tablespoon cream
Process
Finely grind the Marie biscuits
Add cream or butter to combine it
Put it in a 6 inch round pan
Set it in the fridge for 10 mins
In a bowl, mix the cream cheese and sugar until combined. Do not over mix.
Add the cream
Add in the eggs one by one
Add the lemon juice and cornflour (remember to sieve the cornflour).
Mix well until you get a ribbon-like consistency
Pour the batter into the biscuit crust
Cover it with an aluminium foil
Bake it in 150 degree celsius for 40 mins 
Let it cool after bringing it out from the oven
Cover it with a cling film and refrigerate for 4-6 hours
You can add any topping of your choice

Enjoy! I hope you enjoy baking this gorgeous dessert as much as I enjoyed baking it. It is extremely easy and not very time consuming.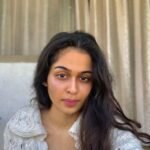 Naira Pasha is a 22 year old Assamese girl residing in Bangalore. Everytime she wishes to take a break from her corporate job, she finds immense comfort in cooking and baking. She mixes and matches recipes from the internet and tries to come up with more simplified versions of gourmet meals.