Chicken Burger with green roast pepper salsa
Chicken Burger with green roast pepper salsa
For the burgers:
Lean chicken mince (10% fat) 100 gms
Spring onions 25 gms
Grated carrot 25 gms
Garlic cloves chopped 1 nos
Dijon Mustard 1 tsp
Mixed herbs as per need
Beaten eggs 1/2 egg
Bun 1 nos
OIl to baste
For the roasted pepper salsa ( for 4 portions)
2 large green peppers halved lengthways and deseeded 2 nos
Kon bilahi or regular tomatoes 100 gms
2 tsp lime juice 2 tsp
Very small red onion , thinly sliced 30 gms
Chicken Burger with green roast pepper salsa
For the meat patty:
Add mince into a bowl with the spring onions, grated carrot, garlic, mustard, and egg. Mix well. Season with pepper and a pinch of salt. Flatten each piece with your hands into a 10cm round (A), about 2cm thick – a similar width to the buns. Chill for about 30 mins. Or can be made a day ahead: stack the burgers between pieces of greaseproof paper to stop them sticking, wrap in cling film then chill until ready to cook.
For the roasted green pepper salsa:
Lay peppers, in an oven at 200 C. Roast for 35 mins until the skins are charred, laying the tomatoes next to them, Remove and immediately transfer the peppers to a small bowl and cover with cling film. Leave for 5-10 mins until cool enough to handle. Peel off the pepper skins (B), chop the peppers and tip them back into the bowl to join any juices there. Chop the tomatoes and stir into the peppers with the lime juice, chives, onion and chillies. Taste and add a grind of pepper if needed. Set aside. Can be made 1-2 days ahead and chilled.
Burger assembling:
Heat a griddle pan. Lay the cut sides of the buns on the griddle and cook until marked with the griddle bars. Brush with butter. Place on the hot griddle, oiled side down. Cook for 5 mins for medium, brush the unoiled side with the rest of the oil , then turn and cook for another 5 mins. (For well done, add an extra 1-2 mins to each side.)
Remove and let the burgers rest for 2-3 mins. Drizzle a little of the pepper juices over the bottom of each bun to moisten, lay on some lettuce sprigs, top with a burger, then a spoonful of the salsa , spooning over some more of the juices. Sandwich together with the tops of the buns.
Additionally you can add cucumbers and caramelised onions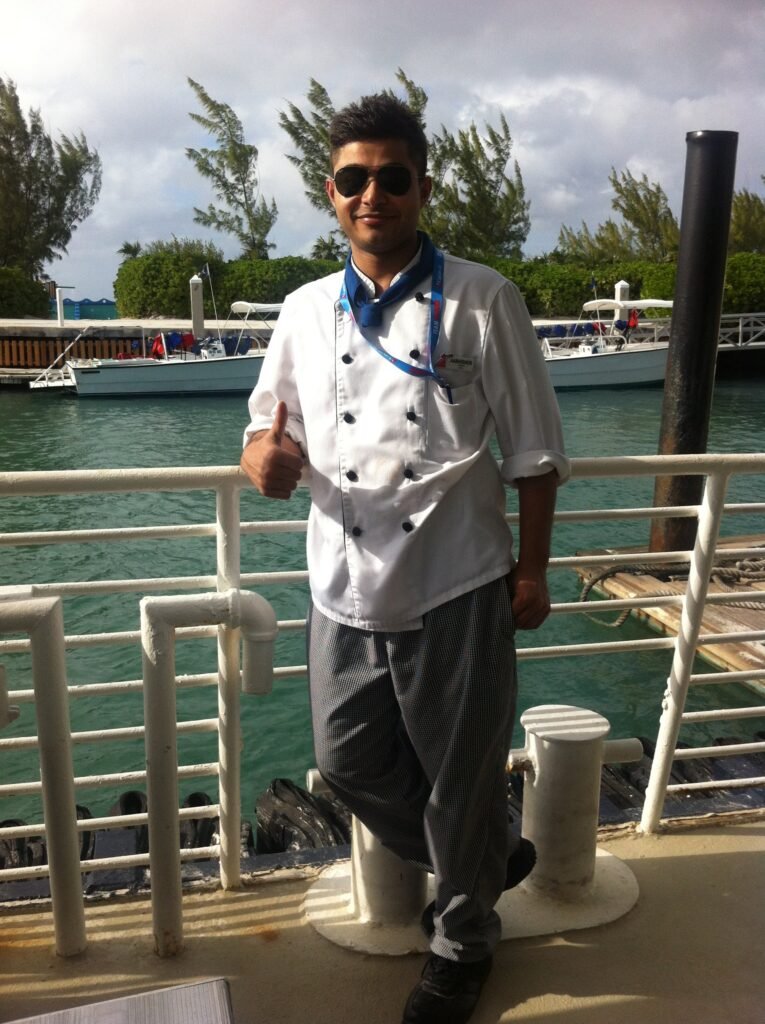 Aabhishek after his graduation from IHM Guwahati, started his culinary journey from Lalit Intercontinental group of hotels across various locations such as New Delhi, Khajuraho, Udaipur, Jaipur, Srinagar, Mumbai & Goa. He also has experience as on-board chef for Carnival Cruise (Miami and Florida). He has also been a jury member of Gplus's prestigious Guwahati Food Award from 2018 to date. He also does consultancies for restaurants and resorts. He currently heads HealhtyCo after successful stints as Faculty in Institute of Hotel Management, Guwahati and running his own Health Food brand 'The Health Bowl '.